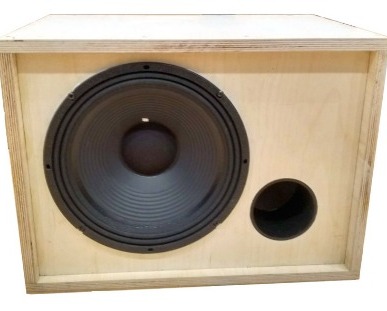 The world's first dedicated guitar speaker for use with amp modellers and IRs, the F12-X200 is a full range driver with a frequency response from 60Hz to 20kHz.
(UPDATE: This cab design is also great for the F12M-150 Triple Cone Full Range Live Response speaker).
Its response is remarkably neutral, with Celestion technology built in to ensure there are no unwanted colourations that can overpower the input signal. The lighter moving mass and straighter sided cone of the type more commonly used with conventional guitar speakers gives the X200 the feel and live response of a traditional guitar speaker, delivering all the physical feedback you'd expect when playing through a traditional guitar rig.
The F12-X200 will deliver great tone in a conventional open or closed back guitar cab. However, to get the most from the speaker's full range capability, we recommend loading it into a bass reflex cabinet.
Here's one you can build yourself, check out the PDF in the Downloads section.