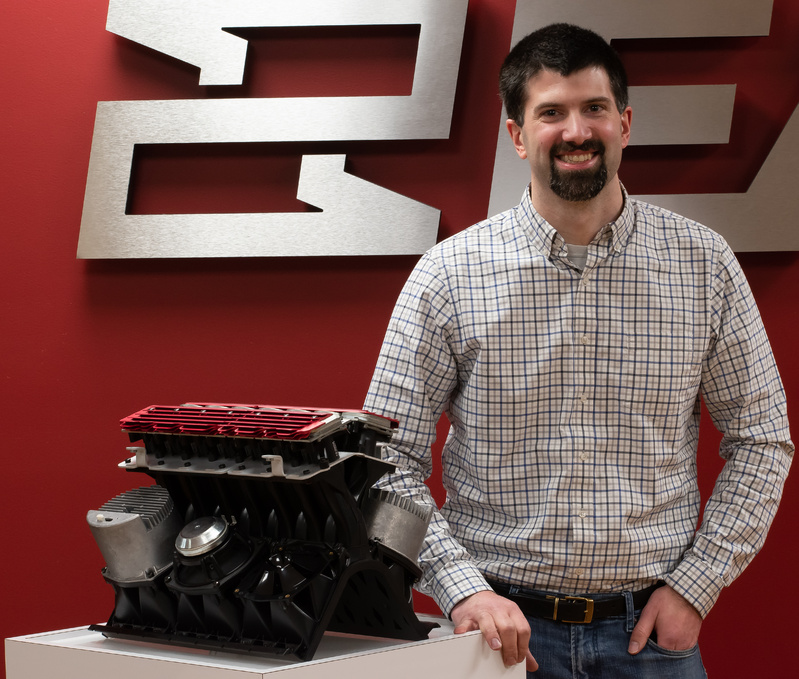 Eastern Acoustic Works (EAW) has been designing and manufacturing advanced loudspeaker systems since its founding in 1978. The company prides itself at listening very carefully to their customers' needs and responding with innovative products and solutions to help them in achieve consistently stellar performances. These days, every EAW loudspeaker system is controlled by their proprietary advanced software application, Resolution, which empowers clients to be able to map, audition, monitor and dynamically refine their sound systems to match the requirements of a specific application or venue.
We spoke with Geoff McKinnon, EAW's Director of Engineering and Quality, the brains behind these loudspeakers with brains.
What is your favorite album of all time and why?
For the past 25 years, my favorite album has been Metallica, Master of Puppets. I really like all the songs on that album, the wide range of songs, the fast pace and energy and all the guitar solos on that album.
What is the thing that made you want to be part of the audio/music industry? How did you get your start in the business? And with this company? What is your current position and how did you get there?
It has always been the combination of music and technology that captured my interest in Pro Audio. As a kid, I remember always being curious and trying to figure out how things worked, including guitars, pianos and musical instruments. That drew me to both music and technology.
When I started playing in bands in high school, I quickly found myself running sound for bands as well as for school and church events. That's where I discovered the Pro Audio world – mixers, loudspeakers, microphones and how the systems were set up.
And from a young age, I always really wanted to be an engineer. I studied electrical engineering at Rensselaer Polytech Institute (RPI) in Upstate New York. I was really fortunate that RPI had a sound club, and the school owned all this great gear including mixers, loudspeakers, microphones, etc. I really got to share and learn with other students.
It is actually through a connection at that sound club that I discovered EAW.  A friend and alumnus of that sound club worked at EAW and gave me a tour. At that point, I was hooked — I knew that I wanted to design loudspeakers!
Of course, it took a few years, as industry positions don't come up that often, but I finally got an opportunity to work at EAW as an acoustic engineer. It gave me a chance to work with and learn from a number of talented industry veterans and be a sponge and absorb it all! After working on a wide variety of projects, I was asked to work on an advanced loudspeaker system, which would become EAW's flagship line, the celebrated ADAPTive series of products, including the Anna and Anya adaptive arrays, the Otto adaptive subwoofer, and now the new AC6 adaptive column loudspeaker.
I have been at EAW for 11 years and am now the Director of Engineering and Quality.
How did your background influence the job you do now? The company overall?
I'm fortunate that my background has been hands-on, working alongside audio professionals in the industry and their customers. That, along with my experience as a band member allowed me to understand Pro Audio as a service industry. The products we create need to perform well sonically and also be trusted by professionals from show to show. My experience has helped me understand the intangibles that matter in the equation beyond what is on the spec sheet.
You and your company are legendary in the industry. In your viewpoint, what is the main reason for that?
EAW is certainly an industry legend. EAW is a company that has always been about innovation — innovation that works for the customer. The best example of that is the company's iconic KF850, the single box three-way loudspeaker. It was originally developed because customers had asked for a smaller 3-way loudspeaker with the same performance. This is also true of products in our popular MK line, which came from customer requests for major stadium needs.
Our same commitment to listen to our customer is true of the products that EAW develops today.
Which product do you consider your company's most innovative?
In our case our most innovative product is not necessarily a Loudspeaker. I feel it is EAW's Resolution 2 software, which allows for system design, venue modeling and operation of all EAW's loudspeaker products within one application. Resolution software is really what empowers our entire product family. The high performance of our ADAPTive loudspeaker systems would not be possible without this powerful software. Resolution calculates the parameter set to adapt the coverage of the loudspeaker system to any venue and make changes in real time. That power is in the software.  Resolution 2 is free to download from our website so it's also the easiest EAW product to experience.
What do you think has been/is the single most important technological achievement in our industry?
I believe that there are two important achievements, and it is hard for me to choose between them. Digital Signal Processing is one. The reasons are apparent with DSP enabling advancement to loudspeaker processing, amplification, and digital mixing consoles. It is now much easier to get a consistent and known result time after time, show after show.
The second achievement is accurate computer modeling tools. This is really applicable for loudspeaker systems in terms of being able to accurately model a sound system's performance in a room – and with an accurate model you can then improve the results of through system deployment and DSP optimization.
These both have really changed the ability to predict the performance of a sound system in a very precise way. We can now be confident that we can have consistent performance day to day, venue to venue.  This was not possible before these advancements.
What is the accomplishment that you are most proud of?
Professionally, I am most proud of the acoustic design for EAW's Anya and then later on, the Anna products. These systems rely on advanced signal processing but a system cannot sound great with processing alone. I would say that the inherent acoustic design enables these systems to sound great, the DSP is just icing on top. I am extremely proud of EAW's development as a company, and my own professional development during both of these projects.  EAW was awarded six patents and two Parnelli awards, I'm really proud of those accomplishments.
Tell us a little about your company culture and your philosophy in leading the team.
EAW is actually a smaller organization than people may expect, and that is because our team is quite dedicated.  We have a work smarter not harder approach to solving problems and helping our customers. For me, I really try to empower each person on the team to deliver products and solutions which help demonstrate their own individual passion for what they do. I want to ensure that talented people have the power to express that passion in products they develop, and solutions that are delivered to customers.
How is your company poised for the future?
EAW has continuously strived to be in the best position to serve our customers. In response to changes with the pandemic, EAW has been enhancing manufacturing capabilities, service and support throughout the U.S. and Europe. This will help make it easier for our customers to get the products and parts they need during this time.
And we are always committed to continually innovating and developing exciting products to serve the needs of our customers.
Finally, what music do you enjoy listening to these days?
I am still listening to a lot of Metallica and more modern Rock and Metal. I have always enjoyed live music, which has been challenging during the pandemic. Certainly, as a loudspeaker designer, I love listening to any music that is well-recorded and purposeful.  I end up listening to a wide range of music like Folk, Jazz, Pop, EDM and everything in-between. Some stand outs for me are Diana Krall, James Taylor and Infected Mushroom.
I still try to go see Metallica every year. I went to their last concert in San Francisco just prior to the pandemic. And my wife and I are going to their upcoming 40th Anniversary Concert.
###