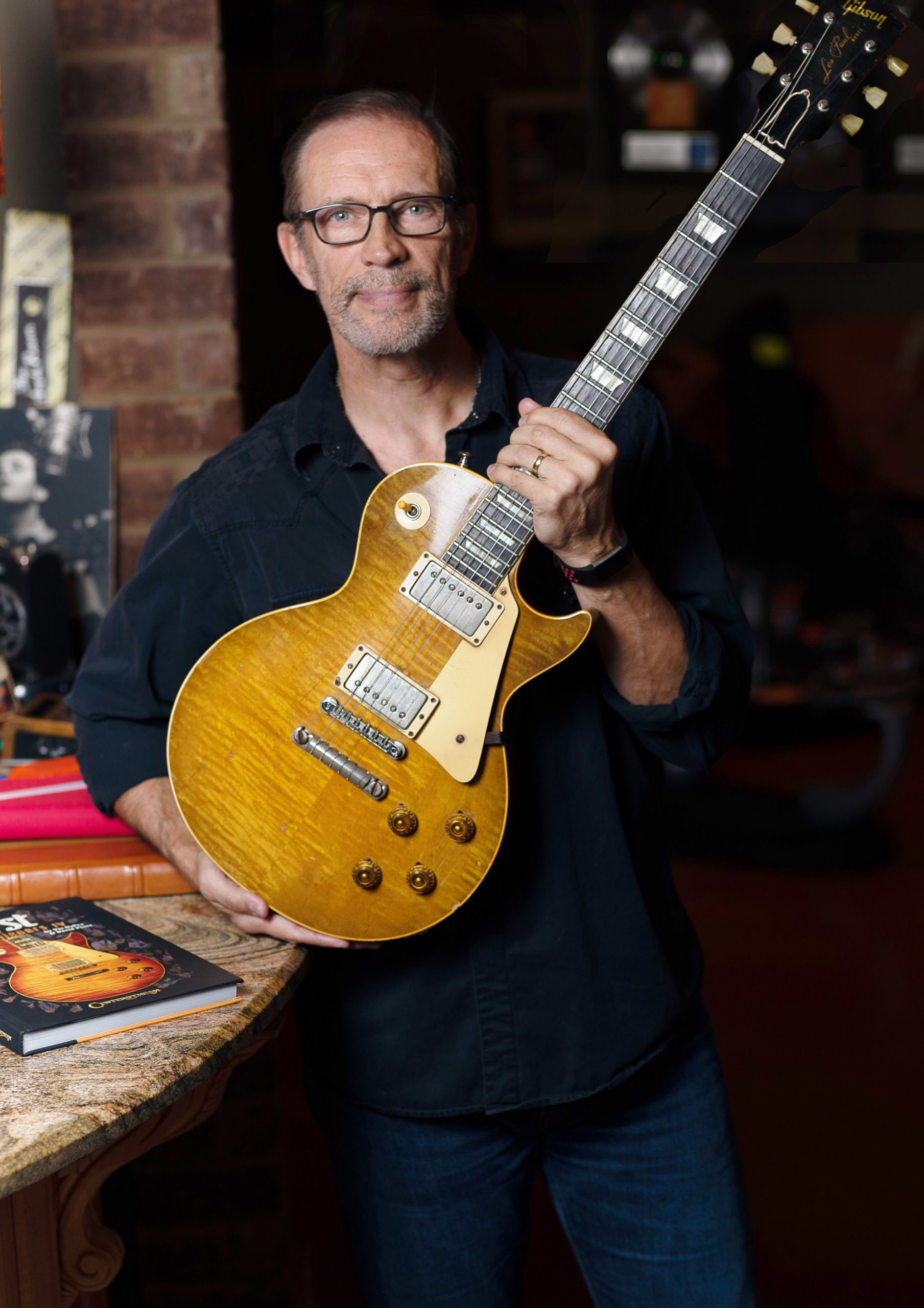 Songwriter and guitarist Gordon Kennedy has brought his family's musical legacy to bear on an enviable and influential Nashville career. His father Jerry Kennedy was a legend in his own right, playing guitar and Dobro with superstars such as Elvis Presley, Jerry Lee Lewis, and Roger Miller. Gordon has won two Grammys, the first being 1996's Song of the Year for composing "Change the World," originally recorded by Wynona Judd but more famously covered by Eric Clapton for the John Travolta film Phenomenon. The second was Best Pop Instrumental Album of 2006 for Peter Frampton's Fingerprints. Before the coronavirus postponed most live concerts, he had been touring stadiums with Garth Brooks. Despite his estimable fame, Gordon has always made time for benefit performances in and around Nashville for audiences of any size. He spoke to us about his musical values and the role of Celestion speakers in crafting his signature tones.
When were you first aware of Celestion speakers being a component of your sound?
I think the first amp I had that used them was an old '68 basket-weave Marshall 4×12 with 20-watt speakers, if you can believe it. But the first time I paid attention to Celestion as a choice, rather than as just what the amp manufacturer used, was when I bought — I think maybe around the year 2000 — a 1960 Fender Tweed Deluxe amp from a vintage show in Philadelphia. The speaker in it was trashed, of course. Peter Frampton said to me, "You should put a Vintage 30 in there." I did and I loved it. I used that Tweed Deluxe with that speaker for years and years. On the Fingerprints album, Peter used my tweed Deluxe with the Vintage 30 for the one song "Float." He liked it so much, that he went and found his own vintage tweed Deluxe. I think he has 3 now! I do too.
What is your go-to amp and what speakers are in it?
That would be my Matchless, an HC-30 which is a head and 2X12 cabinet. I bought it in 1992, and I still use it today and have used it on probably 95 percent of the artist sessions I've worked on since. It uses 25- and 30-watt speakers side by side, I believe a Greenback and a Vintage 30. Matchless did some kind of special magic with how the drivers work together. In the studio, I'll try a lot of their classic and expensive amps, but as soon as I go back to my Matchless with those speakers, I kick my own butt for not just using it to begin with!
What's your most recent Celestion acquisition?
A 1962 piggyback Fender Bassman rig — the 2×12 cabinet and the head. This amp is dear to me because I got it from the great Nashville session player Chip Young. He played on "Jolene" by Dolly Parton. Once again, the original drivers were tired. I didn't want to change its personality radically, so I called John Paice at Celestion and asked what he recommended. He was keen on the Ruby, which is a 35-watt Alnico speaker. I put in a pair of those and oh my gosh, it's a thing of beauty! It makes my guitars do everything I want them to. Whether it's a vintage Telecaster or a Les Paul or an ES-335, it just makes them sound like more what they are. I'm hearing the guitar sounds I grew up on. So, mission accomplished: It didn't change the amp's overall sound, but all the issues were gone, and tonally it just blew my mind.
In the bio on your website, you cite your father as your biggest influence. Can you speak to his impact on your musical life?
From the time I was very young, there was a jukebox, a few guitars in cases, and an upright piano in our basement, but let's go back even further. All the stuff that happened to me wouldn't have happened if it weren't for my dad, but his opportunities might not have happened if it weren't for his father, who was a deputy sheriff in Shreveport, Louisiana. When my father was nine years old, my grandfather asked him if he'd like to try a guitar lesson, and he took his first lesson on a Friday. The following Monday, my grandfather died. I think that put a calling on my father's life, which in turn put a calling on mine.
That calling has certainly borne fruit. You've played in a lot of different genres. Acknowledging your comfort zone is very broad, what's the most you've ever been outside of it?
On one hand, I try not to think too much about the musical spectrum on either side of me. Instead, I try to focus on how cool it is that I might be working with Peter Frampton one day and Ricky Skaggs the next. How about those for bookends? I suppose I was out of my comfort zone when I first went onstage with Ricky and his Kentucky Thunder bluegrass band. They were just blistering, and I came on to do a couple of songs, feeling like the only guy at the starting line of the Indy 500 who was on a moped!
I had grown up with my father bringing home reel-to-reel tapes of sessions he'd done that day with people like Jerry Lee Lewis. I always wanted to be that kind of Nashville cat, but when I first worked with musicians of that caliber, I was scared to death. Chip Young sat next to me at my first tracking session ever. He could not have been kinder and more willing to show me the ropes. Over the years, I've learned to trust more that if I was being invited into a situation like that, it must be for a reason.
How are you handling session work during this ongoing Covid-19 pandemic?
Fortunately, technology makes it pretty easy to work remotely these days. In my own studio, I've done quite a bit of demo work during the pandemic. But I do miss the live shows. I did a lot of performing songwriter-in-the-round shows, like at Bluebird Café. I can't imagine playing a stadium show under these conditions, but I'm happy to go play a charity fundraiser for six people in a socially distanced back yard. I'll be there in 20 minutes!
Can you tell us about your recording signal chain for remote sessions?
If I'm using a single mic, most of the time it's a Royer 121 ribbon. If I'm working with an audio engineer, we might do the two-mic thing and add a Shure SM57. Those go through either one or both channels of a Brent Averill stereo Neve preamp, then into 1176 compressors. I do try to get most of my tone from the amp, though.
As a Nashville player, what do you make of Celestion's reputation as the guitar speaker of rock — British hard rock in particular?
Let me tell you, these Ruby speakers in the old Bassman rig I mentioned — I can do anything with this amp. I can cover Beatles, or Tom Petty in a tribute band I play in called the Petty Junkies, or plug in my '61 Telecaster and get these warm, Mark Knopfler-esque tones, which I was doing the other day. For myself, I don't have much need for high-gain, high-saturation stuff. I like to stage the amp so that it's clean when I back off on my guitar volume knob, then just a little crunchy when I turn it up. Let me emphasize the Celestion part of the recipe. Without these Rubies, the amp would be a conversation piece for telling Chip Young stories. With them, it sounds glorious on just about anything.
What advice would you give to a kid who reads your bio and says, "This is the guy I want to be"?
I recently did a graduation speech for Belmont University. I've also taught there via Zoom, to a lot of talented students. I asked them, "Are you in this to be a star, or is it a calling for you?" I told them a saying I like, which is that God doesn't call the equipped; God equips the called! But let's get deeper into what that means. For me, having a calling doesn't mean just hoping Garth Brooks rings your phone for a stadium tour. Will you take your guitar and play for hospital patients at Vanderbilt? Will you play for children at Saint Jude's? For a fundraiser for Meals on Wheels?
So, for anyone getting started, ask yourself that question. Let's say your focus is to be a songwriter. Being a successful one means you only get told "no" nine times out of ten! Eric Clapton once complained that music has become an accessory to stardom. If you're in it for that, you might quit when you get told "no." But if it's your calling, you won't quit. You'll be prepared with the right responses and the right attitude.