Replacing a speaker or speakers in your cab can be a really cost-effective way of significantly upgrading your tone. If you're thinking of swapping out speakers yourself, then you've come to the right place! It needn't be a difficult operation, but it's important to be aware of how the speakers are connected up, as well as some of the implications of wiring up multiple speakers together. Before you get to re-loading your cab.. take a moment to read through the important background information below and get ready to take a step closer to great tone!
Single Speaker
The most basic cabinet configuration is a single speaker.
1 x 8 ohm Speaker = 8 ohm load
1×16 ohm speaker = 16 ohm load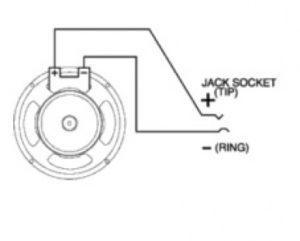 Two Speakers
Remember:
1. Match impedances (ohms) – all speakers in the same box should have the same impedance.
2. Power handling – as a rule of thumb, when mixing speaker types in a two speaker cabinet, maximum power handling is 2 x the lowest rated speaker (e.g. for 30-watt & 60-watt speakers, max power handling = 2×30-watt = 60-watt)
There are two ways you can wire a two speaker cabinet.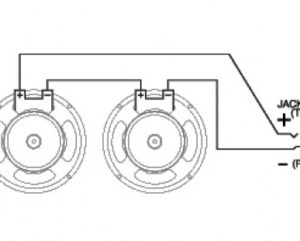 Series: 2 x 4 Ohm Speaker = 8 Ohm Load;
2 X 8 Ohm Speaker = 16 Ohm Load;
2 X 16 Ohm Speaker = 32 Ohm Load
Or, in Parallel: 2 X 4 Ohm Speaker = 2 Ohm Load;
2 X 8 Ohm Speaker = 4 Ohm Load;
2 X 16 Ohm Speaker = 8 Ohm Load
Four Speakers
Remember:
1. Match impedances (ohms) – all speakers in the same box should have the same impedance
2. Power handling – as a rule of thumb, when mixing speakers in a four speaker cabinet, maximum power is 4 x the lowest rated speaker (e.g. for 2×30-watt & 2×60-watt speakers, max power handling = 4×30-watt = 120-watt)
There are two ways you can wire a 4×12 (or 4×10 for that matter), the main one is Series/Parallel: 4 X 8 Ohm Speaker = 8 Ohm Load; 4 X 16 Ohm Speaker = 16 Ohm Load