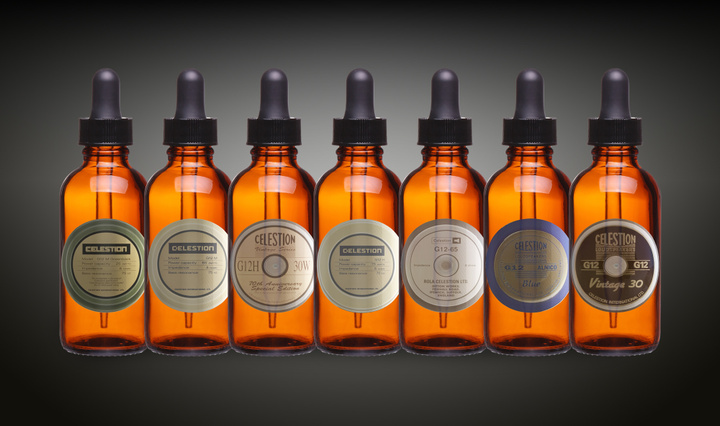 Frankfurt, Germany (April 1, 2017) — For the first time at the international Pro Light + Sound Exhibition  (Hall 3, Level 1, Stand G20), Celestion, is pleased to show their new line of Impulse Responses (IRs), the definitive digital representations of their renowned classic guitar speaker tones.  Created by Celestion using state-of-the-art gear, award-winning engineers and a world-class live room, the IRs offer users unlimited creativity and possibilities in owning their perfect tone. With the launch of the new website, Celestion Plus, IRs featuring seven different classic Celestion loudspeaker models, each in five different speaker cabinets may be auditioned, purchased and downloaded for use in studio and live production applications.
Celestion IRs, which capture the essential behavior of the cabinet in the specific space in which it was recorded, including the frequency and phase response of single drivers as well as the interaction of multiple speakers, offer the user significant benefits. In both recording and live production, Celestion IRs enable the desired tone to be precisely and consistently reproduced regardless of the music recording or live sound environment. And IR users can escape the limitations of a single mic and cabinet setup and explore a universe of possibilities to create the perfect tone. Once you find a tone that you love, it can be precisely recreated, in the studio or on the road, time after time. And, for the first time, Celestion customers can audition specific models before purchasing one or more physical speakers.
"Celestion have always been at the forefront of guitar speaker tone, so it should be no surprise that our impulse responses are the best available and the most accurate digital representations of your favorite tones," says Nigel Wood, Celestion Managing Director. "We have a deep understanding of tone, as well as the complex, technical methodology required to capture it in the most precise and faithful way. Responding to a clear market demand, we see our definitive digital download products as a natural extension of Celestion's product range — providing the authentic speaker tone you crave — but simply in a digital, rather than physical, format."
The initial list of Celestion IRs available for purchase includes the company's popular G12M Greenback, G12M-65 Creamback, G12M-75 Creamback, G12H Anniversary, G12-65, Celestion Blue and Vintage 30  models mounted in 1×12 and 2×12 open and closed back and 4×12 cabinets. The Celestion IRs were captured using a variety of spot and room microphones at Decoy Studios in England by U.K. recording engineer, producer and mixer Mike Spink, renowned for his work with artists such as The 1975, Jake Bugg and The Gaslight Anthem, who also created a menu of presets for each speaker model. Decoy Studios is home of mixer Cenzo Townsend, two-time recipient of The Music Producers Guild's Best Mix Engineer award, who has produced special demonstration Celestion IR tones for the new web site.
Celestion IR digital downloads are available in uncompressed, industry standard .WAV format at 44.1 kHz, 48 kHz, 88.2 kHz and 96 kHz sample rates at 24 bit depth, in lengths of 200 and 500 milliseconds Once the files are downloaded and unzipped, users simply load the IRs into a convolution plug-in in their DAW or into other processing hardware. These formats will work in all known hardware capable of loading IRs, and for the most popular hardware Celestion have already grouped together the correct formats. The Celestion IR files may be downloaded in the sample rate and length appropriate for the hardware being used or as a complete package of all rates and lengths. Certain third party hardware requires the files to be converted into a proprietary format before use.
For more information about Celestion Impulse Responses, visit CelestionPlus.
About Celestion and Celestion Guitar Speakers
An important element to essential British guitar tone since the birth of Rock & Roll, Celestion Guitar Speakers are famous for their lively and vocal midrange character with plenty of sparkle and chime. With worldwide headquarters in Ipswich, England, Celestion design, develop and manufacture premium guitar and bass loudspeakers, and high-quality professional audio drivers for sound reinforcement. These world-renowned speakers are used onstage and in clubs, theatres and other venues the world over. Contact Celestion at: info@celestion.com and visit us on Facebook at www.facebook.com/celestion.