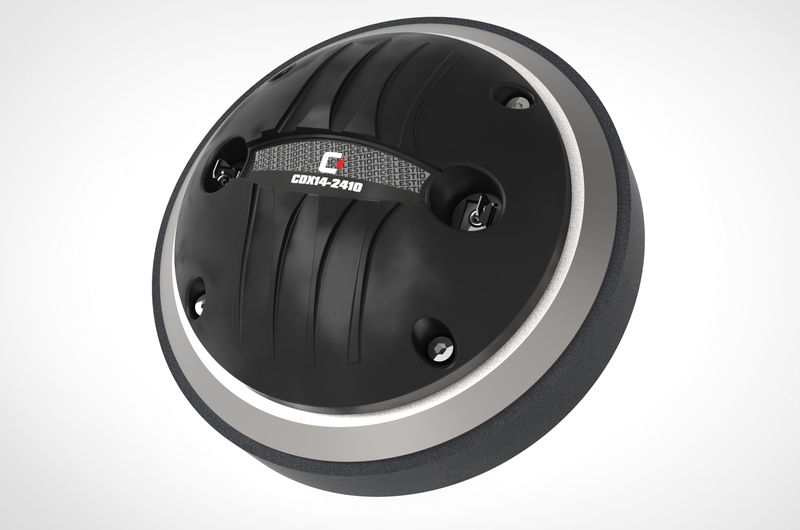 Frankfurt, Germany (April 1, 2019) — At this year's Pro Light + Sound (Hall 8.0, G81), Celestion, a world-leading designer and manufacturer of professional audio loudspeakers and compression drivers for sound reinforcement applications, is pleased to show the new CDX14-2410 1.4" exit, high frequency compression driver.
CDX14-2410 is the latest of Celestion's "ultra-low noise" compression drivers, featuring a patented phase-plug design which, together with a unique "deep-drawn diaphragm" results in more accurate sounding HF, exhibiting much lower distortion than many comparable devices already on the market.
"In essence, the 2410 is a low profile, ferrite magnet version of the well-established CDX14-2420 neodymium magnet compression driver," commented Celestion Marketing Manager Ken Weller. "The ferrite magnet means it is not so light weight as the neo counterpart, however it delivers the same high levels of performance at a more cost-effective price point."
Designed and developed at Celestion's headquarters in Ipswich, England, CDX14-2410 features a 60mm/2.4-inch diameter edgewound copper clad aluminium voice coil, and a 35mm/1.4-inch exit size. The new driver provides 50-watt power handling and delivers a 106dB sensitivity performance over a frequency range of 800-20,000Hz, with a recommended crossover frequency of 1200Hz.
CDX14-2410 employs a patented phase plug design, where the suppression of cavity resonances occurs at much higher frequencies—compared with conventional compression designs—resulting in a much lower distortion performance. In addition, the resulting lower compression ratio reduces air non-linearity and allows for higher maximum SPL.
Also featured is a titanium diaphragm that has been deep-drawn for increased stiffness. This creates a higher threshold frequency to avoiding the possibility of dome break-up, and therefore distortion, within the critical listening band of 2-10kHz; a shortcoming often associated with the lower profile diaphragms of typical compression drivers.
See Celestion at Pro Light + Sound 2019 in Hall 8.0, Stand G81, 2.-5. April 2019.
Contact Celestion at: info@celestion.com and visit us on Facebook at www.facebook.com/celestion.