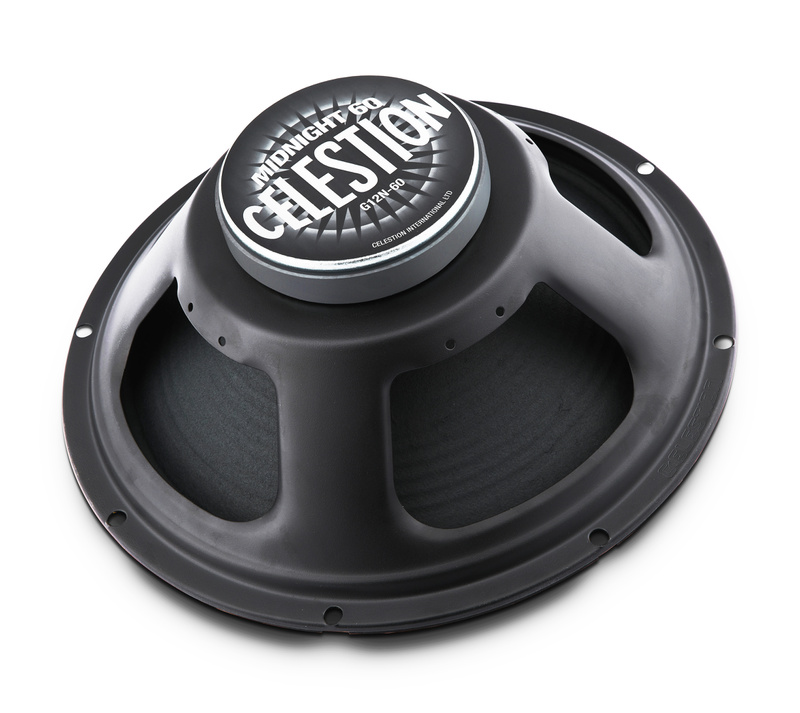 Anaheim, CA (January 16, 2020) —Celestion, the premier manufacturer of guitar and bass loudspeakers whose classic guitar tones have made the company famous as the voice of rock and roll, is very pleased to debut the new Midnight 60 loudspeaker at Winter NAMM 2020 (Booths 7602 and ACC North 18500).
An unsung hero that's been loaded into some very popular branded combos for the last couple of years, the Midnight 60 will soon be available to buy from Celestion vendors the world over, as a super-affordable upgrade option.
This exciting new guitar speaker has come from the same development processes, and has been heavily based upon the extremely successful V-Type. The Midnight 60 continues Celestion's tradition of delivering rich, classic British tone in innovative new ways, featuring the moving parts that were derived from the V-Type design, but with a different magnet assembly which has the effect of shifting the tonal balance to give a sonic character more reminiscent of a Celestion's vintage G12L speaker.
Whatever the playing style, Midnight 60 provides an exhilarating sound in the classic Celestion style. Cleans are well-balanced with just enough top end to make the high frequencies sparkle. Overdriven this speaker brings searing rock tones, with plenty of low-end warmth and mid-band character.
Available in 8Ω or 16Ω, this pressed steel frame, ceramic magnet guitar speaker offers 60-watt power handling and an output sensitivity of 96dB.
General Specifications
Nominal diameter                    305mm/12in
Power handling                       60W
Nominal impedance                8Ω, 16Ω
Sensitivity                                96dB
Chassis type                           Pressed Steel
Voice coil diameter                  44mm/1.75in
Voice coil material                   Copper
Magnet type                            Ceramic
Magnet weight                         0.6kg/20oz
Frequency range                     75Hz-5000Hz
Resonance frequency             75Hz
Mounting Information
Overall diameter                      309mm/12.2in
Overall depth                           120mm/4.7in
Magnet structure diameter      115mm/4.5in
Cut-out diameter                     283mm/11.1in
Mounting slot dimensions       7.9mm/0.31in
Number of mounting slots       8
Mounting slot PCD                  297mm/11.7in
Unit Weight                             2.5kg/5.5lb
The new Midnight 60 will be available from Celestion retailers in the first half of 2020.
See the new Midnight 60 as well as Celestion's full line of guitar speakers and professional audio drivers at Winter NAMM 2020 at the Celestion Booths #7602 and ACC North #18500.
About Celestion
With worldwide headquarters in Ipswich, England, Celestion design, develop and manufacture high-quality professional audio loudspeakers and compression drivers for sound reinforcement; premium guitar and bass guitar loudspeakers. These world-renowned speakers are used onstage and in clubs, theatres and other venues the world over. Contact Celestion at: info@celestion.com and visit us on Facebook at www.facebook.com/celestion.