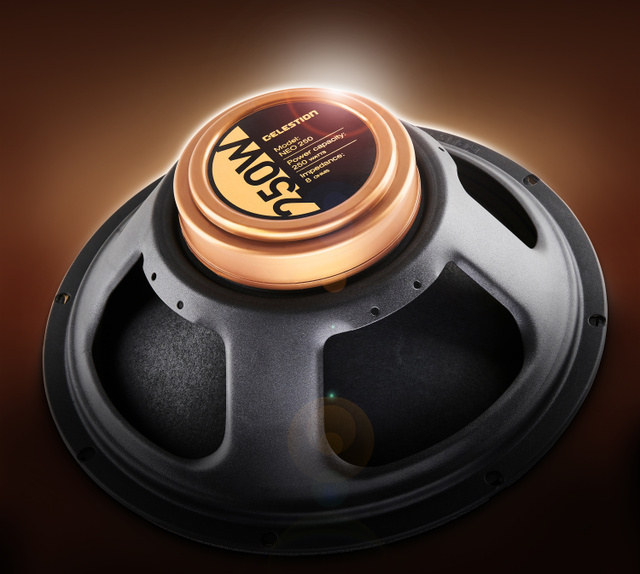 Anaheim, CA (January 25, 2018) — At this year's NAMM Show, Celestion, the premier manufacturer of guitar and bass loudspeakers and professional audio drivers for sound reinforcement applications, is pleased to debut the Neo 250 Copperback, a new type of Celestion guitar speaker intended to help musicians and amplifier builders optimize the native tone of their systems while also achieving maximum response to players' touch and dynamics.
While classic Celestion speakers offer the signature midrange presence and growling breakup that has led the music community to consider them one of the most important elements of British guitar tone, the Neo 250 Copperback is designed with a different goal in mind. That goal is to be more tonally transparent, allowing more of the best sonic characteristics of the amplifier and instrument to come through. With its overall light weight of under 5.5 pounds (thanks to a neodymium magnet), the Neo 250 Copperback likewise preserves all the intentions that the fingers of the musician want to express, with an exceptional level of detail and nuance.
In contrast to other guitar and general-purpose speakers that boast transparency, the Neo 250 Copperback preserves the musicality and organic quality that makes Celestion so sought after. Without adding additional coloration, its tight lows, neutral low mids, open upper mid definition, and well-controlled high treble let the guitarist go from shimmering, bell-like clean tones to almost flute-like high gain, merely by tweaking the amplifier's drive knob.
Last but not least, the extraordinary power rating of 250 watts ensures the Neo 250 Copperback can comfortably be driven by the latest high-output and digital amp technology, which many higher-tech guitarists find appealing. At the same time, its efficient sensitivity of 100dB means it will sing clearly in amp setups and signal chains preferred by tonal purists.
Whether it's a driver upgrade or replacement in an existing amp or a completely original build, the Neo 250 Copperback is the best transducer to let amplifiers — and musicians — sound their truest.
Specifications:
Nominal diameter: 12".
Power rating: 250W.
Impedance: 8Ω.
Sensitivity: 100dB.
Chassis type: Pressed steel.
Voice coil diameter: 2.5″.
Voice coil material: Round copper.
Magnet type: Neodymium.
Frequency Range: 70 – 5,500Hz.
Resonance frequency (Fs): 55Hz.
Weight: 5.5lbs. / 2.6kg.
About Celestion and Celestion Guitar Speakers
An important element to essential British guitar tone since the birth of Rock & Roll, Celestion Guitar Speakers are famous for their lively and vocal midrange character with plenty of sparkle and chime. With worldwide headquarters in Ipswich, England, Celestion design, develop and manufacture premium guitar and bass loudspeakers, and high-quality professional audio drivers for sound reinforcement. These world-renowned speakers are used onstage and in clubs, theatres and other venues the world over. Contact Celestion at: info@celestion.com and visit us on Facebook at www.facebook.com/celestion.