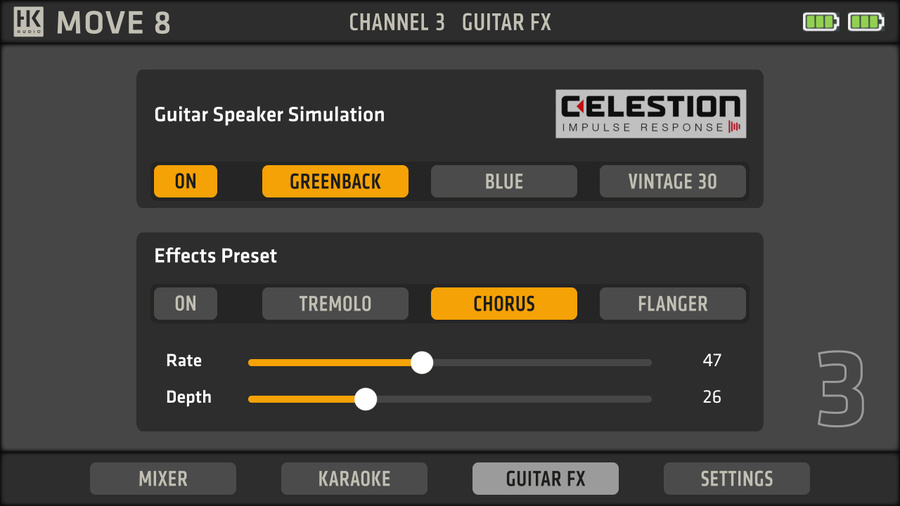 Ipswich, UK (February 17, 2021) —Celestion, the celebrated manufacturer of guitar and bass loudspeakers, and professional audio drivers for sound reinforcement applications, is very pleased to announce that HK Audio's new PREMIUM PR:O MOVE 8 loudspeaker system features three of the company's most popular Impulse Responses, including the Celestion Greenback, the Vintage 30 and the Celestion Blue.
The new high-performance, battery-powered MOVE 8 is the latest introduction in HK Audio's PREMIUM PR:O series of loudspeakers. The MOVE 8 has a slot for two rechargeable batteries (included), which are either inserted simultaneously to extend the running time or inserted alternately to ensure uninterrupted playback ("Hot Swap"). Thanks to the external quick charger (optional accessory), endless, uninterrupted battery operation is possible.
The Celestion Impulse Responses are included on MOVE 8's instrument channel, in which the tones of the Celestion Greenback, Celestion Vintage 30 and Celestion Blue can be activated. This makes MOVE 8 an active, battery-powered guitar speaker and the perfect partner for mobile guitar preamps.
The accompanying MOVE 8 REMOTE App, available free of charge for iOS and Android devices, is another extraordinary feature. In addition to controlling the speaker remotely, it offers a host of additional sophisticated features such as a karaoke function with voice cancellation and pitch adjustment, as well as modulation effects for the instrument channel. The App can be used to control all the channel settings (EQ, reverb, volume) as well as the master volume. In addition, a 2-band EQ is available for channel 4 (Aux/Bluetooth), and the karaoke function can be activated for Bluetooth audio streaming and Aux In including Vocal Cancellation and Transpose. The integrated effects (chorus, tremolo, and flange) as well as the 3 Celestion cab simulations can be selected on channel 3 and can be used to optimize the sound of an electric guitar, for example. All EQ settings can also be stored and quickly recalled.
"Celestion Impulse Responses have been growing steadily in the four years since their introduction to become the market leader in digital guitar tones," says Ken Weller, Celestion Production Marketing Manager. "We are extremely pleased to welcome HK Audio as a partner and congratulate them on the launch of the innovative MOVE 8."
"The new MOVE 8 combines impressive acoustic performance with superb battery management and fascinating features that are truly unique in its class", says Rüdiger Forse, Senior Product Manager at HK AUDIO. "This combination makes it a real all-rounder for all musicians, DJs, speakers, music enthusiasts and audio professionals. With the PREMIUM PR:O MOVE 8, HK Audio has invented a new level of freedom in the use of mobile loudspeakers".
The battery-powered PREMIUM PR:O MOVE 8 is available now. More information can be found at: PREMIUM PR:O MOVE 8
The Celestion Greenback, Vintage 30, Celestion Blue IRs and the rest of the full line of official Celestion Impulse Responses are available for download at: CelestionPlus.
About Celestion Digital
The introduction of authentic Celestion Impulse Responses represented the company's forward step in making their celebrated speaker tones available as digital downloads. Celestion IRs capture the essential behavior of a speaker in a particular cabinet in the specific space in which it was recorded, including the frequency and phase response of single drivers as well as the interaction of multiple speakers. They offer significant benefits in both recording and live production, enabling the desired tone to be precisely and consistently reproduced regardless of the recording or live sound environment. Explore, audition and download the extensive collection of Celestion guitar and bass Impulse Responses at celestionplus.com.
The introduction of Celestion SpeakerMix Pro sees the company delivering a truly forward-thinking studio software solution that enables users to get every ounce of tone from Impulse Response technology. The companion Dynamic Speaker Responses launched alongside the plug-in exemplify the next generation in speaker response emulation, representing a true advancement in the technology of digital speaker tone.
www.Celestionplus.com
About Celestion and Celestion Guitar Speakers
An important element to essential British guitar tone since the birth of Rock & Roll, Celestion Guitar Speakers are famous for their lively and vocal midrange character with plenty of sparkle and chime. With worldwide headquarters in Ipswich, England, Celestion design, develop and manufacture premium guitar and bass loudspeakers, and high-quality professional audio drivers for sound reinforcement. These world-renowned speakers are used onstage and in clubs, theatres and other venues the world over. Contact Celestion at: info@celestion.com and visit us on Facebook at www.facebook.com/celestion.
www.celestion.com