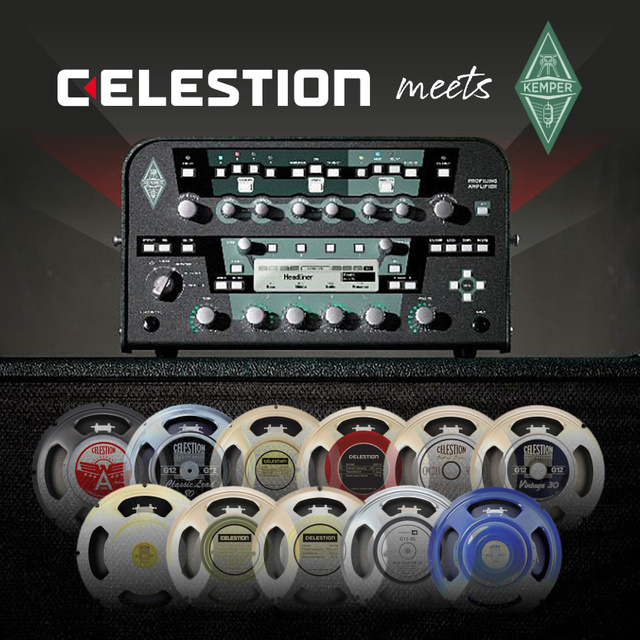 Recklinghausen, Germany (September 26, 2018) — KEMPER, manufacturer of theindustry-leading tone profiling amplifier, has released the new PROFILER™ Operating System 5.5.2, which incorporates a package of powerful features and add-ons, including 18 specially selected Celestion Impulse Responses. With a rich history in creating the world's renowned classic guitar tones, Celestion debuted their acclaimed line of digitally downloadable Impulse Responses (IRs) last year, which are available for audition and purchase at CelestionPlus.
The classic Celestion guitar speaker tone Impulse Responses which are included with the new Operating System 5.5.2 include select samples of A-Type, Celestion Blue, Celestion Cream, Classic Lead 80, G12H Anniversary, G12-35XC, G12H-150 Redback, G12M Creamback, G12M Greenback, Neo Creamback, and others, which have already been pre-formatted for use with the Kemper system. Additional Celestion IR tones available for download at CelestionPlus can easily be formatted for the PROFILER using Cab Maker.
The KEMPER PROFILER™ is the leading-edge digital tone profiling guitar amplifier, praised by guitarists the world over. The Profiler uses proprietary digital technology to accurately model any physical guitar or bass amplifier and associated speaker cabinet, allowing users to create a profile of their own amps as well as download the rigs of anyone in the Kemper community who chooses to share, and store them to memory. It's a true guitar preamplifier with real gain and tone knobs ready to plug into a sound system, or recording system.
Celestion Impulse Responses are the perfect complement to the KEMPER PROFILER*, as the digital downloads are available to any musician who might not have the space or budget for a stable of speaker cabs. And even for those who do, Celestion IRs offer flexibility and unlimited creativity for the user, enabling them to save favorite tones for later use as well as audition models before purchasing physical speakers.
For all Celestion IRs, five individual IR varieties of each tone are available for download, which correspond to each of 5 separate types of cabinet, including: 1×12 (open back), 1×12 (closed back), 2×12 (open back), 2×12 (closed back) and 4×12 (closed back.) All IR models can be purchased either separately, as an entire collection for a savings of over 50%, or as part of a Pick & Mix option. Celestion's Pick & Mix option features IR combinations of either 3 or 5 cabinets from the company's full range of IRs, offering customers flexibility and value pricing in building their personal IR library.
To learn more about the Kemper PROFILER™ and download the free OS Version 5.5.2, visit: www.kemper-amps.com/downloads
*Standard Celestion IRs require converting to the proprietary Kemper format using the free Cab Maker software, available from www.kemper.com.
About Celestion Impulse Responses
Celestion IR digital downloads are available in uncompressed, industry standard .WAV format at 44.1 kHz, 48 kHz, 88.2 kHz and 96 kHz sample rates at 24 bit depth, in lengths of 200 and 500 milliseconds Once the files are downloaded and unzipped, users simply load the IRs into a convolution plug-in in their DAW or into other processing hardware. These formats will work in all known hardware capable of loading IRs, and for the most popular hardware Celestion have already grouped together the correct formats. Guitar processor manufacturers supported include Atomic Amps, Fractal Audio Systems, HeadRush, Kemper, Line 6, Logidy, Positive Grid, Two Notes and Yamaha. The Celestion IR files may be downloaded in the sample rate and length appropriate for the hardware being used or as a complete package of all rates and lengths. Certain third party hardware requires the files to be converted into a proprietary format before use.
About Celestion and Celestion Guitar Speakers
An important element to essential British guitar tone since the birth of Rock & Roll, Celestion Guitar Speakers are famous for their lively and vocal midrange character with plenty of sparkle and chime. With worldwide headquarters in Ipswich, England, Celestion design, develop and manufacture premium guitar and bass loudspeakers, and high-quality professional audio drivers for sound reinforcement. These world-renowned speakers are used onstage and in clubs, theatres and other venues the world over. Contact Celestion at: info@celestion.com and visit us on Facebook at www.facebook.com/celestion.