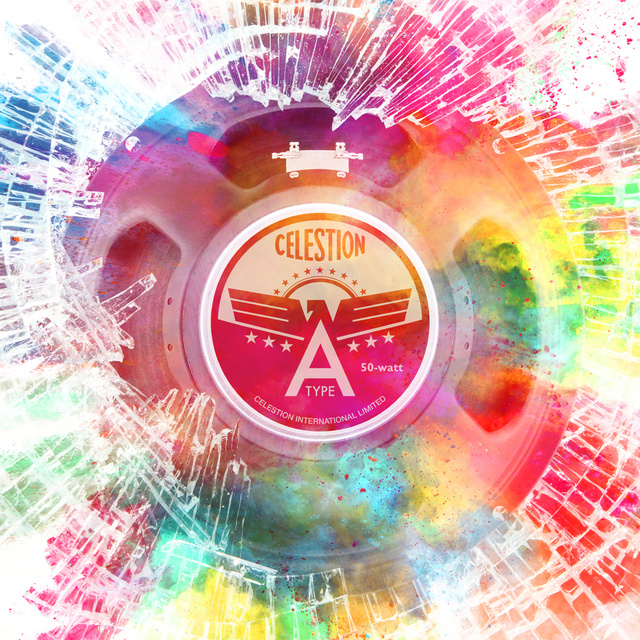 Ipswich, UK (July 17, 2017) — Celestion is pleased to announce a bold new addition to their celebrated family of digital downloadable impulse responses, the A-Type. The Celestion A-Type represents an unusual kind of guitar speaker; one that offers the celebrated classic British Celestion tone with a bit of an American accent thrown in. The new A-Type Impulse Responses, along with the nine other sets of classic loudspeaker IRs introduced earlier this year, are available for audition and download at Celestion Plus.
The Celestion A-Type is a different kind of guitar speaker waiting to be discovered. Still faithful to the Celestion spirit, the A-Type features a big, booming low end which meets relaxed mids and smooth, silky highs. Supremely musical and three-dimensional in sound, the A-type has a more laid-back midrange than other speakers in the range, revealing body and complexity across the entire frequency spectrum. Players looking for clean tones will enjoy the smooth articulation, while rock fans will rejoice in the thundering low end. While the A-Type tone isn't something most people expect from a Celestion speaker, it has become both an undiscovered gem for some and attracted its share of dedicated diehard fans. By making the A-Type available as an Impulse Response, Celestion is offering their valued customers the ability to have easy digital access and the ability to explore more unique guitar tones.
Five individual IR varieties of the new Celestion A-Type speaker are available for download, which correspond to each of 5 separate types of cabinet, including:
• 1×12 (open back)
• 1×12 (closed back)
• 2×12 (open back)
• 2×12 (closed back)
• 4×12 (closed back
And for each of these cabinets, three different professional studio quality microphones were used, each placed in six discrete locations. (resulting in18 impulse responses per cabinet). In addition, Celestion has incorporated eight more impulse responses for each cabinet, created by mixing together various single IRs, offering further tonal variety.
"Our family of Impulse Responses have been extremely well-received by our customers and we strive to be able to offer them the most interesting and original varieties of IRs," says Nigel Wood, Celestion CEO. "We are happy to add the bold, unique A-Type IRs to the Celestion Impulse Response collection, so our customers can enjoy a wide-variety of tonal choices in our IRs, available as convenient digital downloads."
As the premier manufacturer of guitar and bass loudspeakers with a rich history in creating classic guitar tones known the world over, Celestion insists upon the utmost standards for their Impulse Responses, which are created using state-of-the art gear, award-winning engineers and world-class recording facilities. As a result, Celestion Impulse Responses are the definitive digital representations of the company's renowned classic guitar speaker tones.
The new A-Type Impulse Responses join the other classic set list of Celestion IRs available for purchase including the Neo Creamback, G12-H150 Redback, G12M Greenback, G12M-65 Creamback, G12M-75 Creamback, G12H Anniversary, G12-65, Celestion Blue and Vintage 30 models mounted in 1×12 and 2×12 open and closed back and 4×12 cabinets. The A-Type IRs are available for download both as an individual single cabinet-type IR as well as a full collection.
About Celestion Impulse Responses
Celestion IRs, which capture the essential behavior of the cabinet in the specific space in which it was recorded, including the frequency and phase response of single drivers as well as the interaction of multiple speakers, offer the user significant benefits. In both recording and live production, Celestion IRs enable the desired tone to be precisely and consistently reproduced regardless of the music recording or live sound environment. And IR users can escape the limitations of a single mic and cabinet setup and explore a universe of possibilities to create the perfect tone. Once you find a tone that you love, it can be precisely recreated, in the studio or on the road, time after time. And the IRs allow Celestion customers to audition specific models before purchasing one or more physical speakers.
Celestion IR digital downloads are available in uncompressed, industry standard .WAV format at 44.1 kHz, 48 kHz, 88.2 kHz and 96 kHz sample rates at 24 bit depth, in lengths of 200 and 500 milliseconds Once the files are downloaded and unzipped, users simply load the IRs into a convolution plug-in in their DAW or into other processing hardware. These formats will work in all known hardware capable of loading IRs, and for the most popular hardware Celestion have already grouped together the correct formats. Guitar processor manufacturers supported include Atomic Amps, Fractal Audio Systems, Kemper, Line 6, Logidy, Positive Grid, Two Notes, Headrush and Yamaha. The Celestion IR files may be downloaded in the sample rate and length appropriate for the hardware being used or as a complete package of all rates and lengths. Certain third party hardware requires the files to be converted into a proprietary format before use. Celestion Plus.
About Celestion and Celestion Guitar Speakers
An important element to essential British guitar tone since the birth of Rock & Roll, Celestion Guitar Speakers are famous for their lively and vocal midrange character with plenty of sparkle and chime. With worldwide headquarters in Ipswich, England, Celestion design, develop and manufacture premium guitar and bass loudspeakers, and high-quality professional audio drivers for sound reinforcement. These world-renowned speakers are used onstage and in clubs, theatres and other venues the world over. Contact Celestion at: info@Celestion.com and visit us on Facebook at www.Facebook.com/Celestion.
www.celestion.com