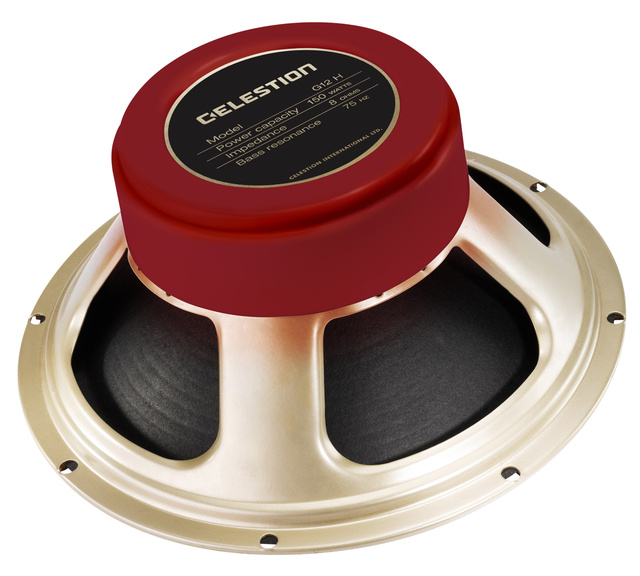 Ipswich, UK (January 17, 2017) — At this year's winter NAMM Show, Celestion, the premier manufacturer of guitar and bass loudspeakers and professional audio drivers for sound reinforcement applications, is pleased to introduce the new G12H-150 Redback, created especially for players who are looking for extreme power handling but refuse to compromise on great tone.
Constructed in the U.K., with a supersized 2-inch voice coil and featuring the heaviest G12 magnet, the Redback delivers a gargantuan 150-watts of power handling>The result is a guitar speaker that sounds 100% Celestion in character, yet is primed to withstand a pummeling from a 100-watt head all by itself, and still come back for more.
Celestion's engineering expertise has assured that there is no need to choose between power and tone with the new Redback, with its tight, well-controlled low end, detailed midrange and more relaxed treble. The Redback is truly high power guitar speaker that can still deliver balance, responsiveness and superb playability, with muscular ease.
Loaded into low power combos, players can expect tons of smooth, clean tone and don't need to be afraid to plug in their favourite stomp box. For those interested in downsizing to a 1×12 cabinet, they need only hook up a single Redback to their 100-watt head in order to generate giant slabs of frightening, monstrous tone. 
About Celestion and Celestion Guitar Speakers
An important element to essential British guitar tone since the birth of Rock & Roll, Celestion Guitar Speakers are famous for their lively and vocal midrange character with plenty of sparkle and chime. With worldwide headquarters in Ipswich, England, Celestion design, develop and manufacture premium guitar and bass loudspeakers, and high-quality professional audio drivers for sound reinforcement. These world-renowned speakers are used onstage and in clubs, theatres and other venues the world over. Contact Celestion at: info@celestion.com and visit us on Facebook at www.facebook.com/celestion.