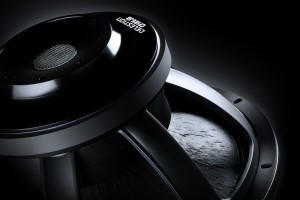 CF18VJD is an 18-inch ferrite magnet, cast aluminium chassis low frequency driver, offering 1600Wrms (AES Standard) power handling and delivering 97dB sensitivity.
Particularly suited to subwoofer applications, the loudspeaker features a 5-inch/125mm, dual-layer copper voice coil, wet-wound on a glass fibre former. This enables the driver to provide a high power handling capability while offering advanced temperature control to prevent sensitivity loss through thermal compression.
Designed using specialist FEA (Finite Element Analysis) techniques, the optimized magnet assembly enables highly symmetrical cone movement and a more efficient performance. The device also incorporates twin demodulation rings for reduced flux modulation; together these advanced features lead to exceptionally low harmonic distortion.
Developed at Celestion's headquarters in Ipswich, England, CF18VJD is the first of a new generation of ferrite magnet, cast aluminium frame drivers. It is also the first Celestion loudspeaker to feature the brand new and dramatic visual design, created in partnership with industrial design house Allen Design Associates. More than a simple cosmetic makeover, this bold aesthetic is intrinsic to the performance of the loudspeaker itself and points the way to future Celestion professional audio products.