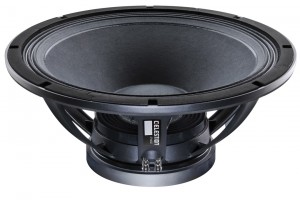 Targeted at a specific set of applications, these 18" cast aluminium frame, ferrite magnet, low frequency drivers are well-suited to use in high-end, professional sound reinforcement.
The two new products join the CF18VJD subwoofer which was launched in April 2011 and has since gathered much acclaim.CF1830E is designed to be a multi-purpose loudspeaker offering superior performance whether used in a reflex, scoop bass or horn-loaded subwoofer and is equally at home as a bass unit in a large multi-way system.
CF1830E features a 3"/75mm multi-layer voice coil (for superior cooling) and delivers 700Wrms (AES standard) power handling and 94dB sensitivity.This model features Celestion's DMM (Dual Magnet Motor) technology, where asecondary magnet is utilised to increase overall motor force (Bl) without the need for any increase in the size (and more importantly weight) of the magnet assembly.
CF1840JD is designed for exceptional performance in reflex subwoofer applications. It features a 4"/100mm multi-layer voice coil (for superior cooling) and delivers 1000Wrms (AES standard) and 96dB sensitivity. Twin demodulation rings reduce flux modulation, further lowering electromagnetic distortion.
Both models feature BAV (Balanced Airflow Venting) to provide enhanced magnet assembly cooling, further enhancing performance by minimising thermal compression.All CF series loudspeakers are designed using specialist FEA (Finite Element Analysis) modelling techniques, enabling Celestion's development team to rapidly achieve genuine increases in performance, such as a highly symmetrical cone movement.
This results in exceptionally low harmonic distortion and a more efficient performance.Developed at Celestion's headquarters in Ipswich, England, The CF series incorporates a unique and powerful industrial design, created in partnership with Allen Design Associates. More than a simple cosmetic makeover, this bold aesthetic is intrinsic to the performance of the loudspeaker itself.