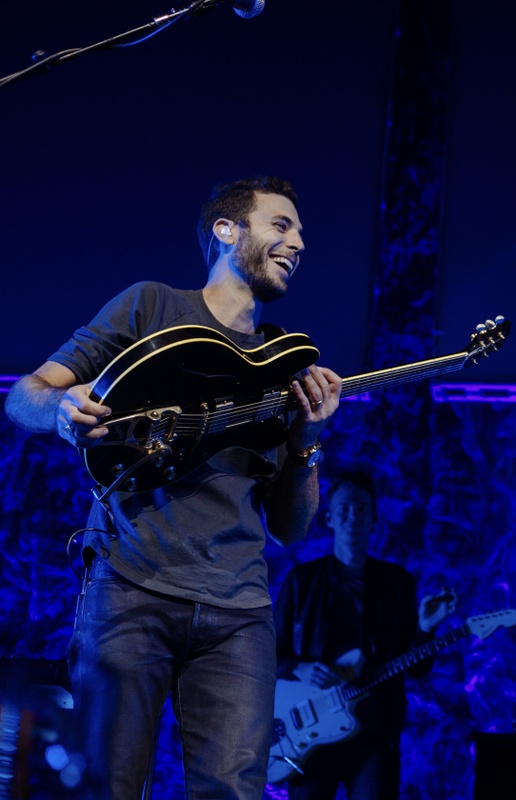 Nashville, TN (July 1, 2020) —Nashville-based musician Bennett Dean Lewis has been playing guitar since a very young age, but it wasn't until college that he started to consider it as a career option.  Given his success since then, it's a good thing he did. Starting with his first bar gigs in Athens, Georgia, he has supported such diverse talents as country-pop ingénue Lera Lynn, indie-rock darlings Of Montreal and most recently, acclaimed Sony-Columbia artist Maren Morris. While his stylistic range has naturally led to a lifelong quest for perfect tone, the demands of constant gigging and recording have made a streamlined amp rig and trouble-free monitor mixes just as important. Lewis recently discovered how Celestion Impulse Responses — accurate digital representations of the company's legendary guitar speaker tones — deliver on both counts.
"I've always been a fan of Celestion's physical speakers. I mean, you could really say they defined the sound of the electric guitar," says Bennett. "It's funny that I got into impulse responses at all, because I'm sort of the stereotype of the simple-minded guitarist. I like to run a Telecaster through a few pedals into a good amp, and that's usually it. However, in live performance I've always had issues with mic bleed and my in-ear monitor mix not being as clean as I'd like. I started wondering, if you could get rid of the speaker cabinet and therefore the mics pointed at it, could that improve the mix?"
Bennett's choice of Celestion Impulse Responses was the Magnificent 7 Collection,  which features  a line-up of tones of seven iconic 12-inch Celestion Speakers, including the Celestion Blue, G12M Greenback, Vintage 30, G12M-65 Creamback, G12H-75 Creamback, G12H Anniversary and Heritage Series G12-65.
"I started with a bundle called the Magnificent 7. It's sort of a greatest hits of Celestion's classic guitar speakers," says Bennett. "The two from that collection that I keep going back to are the Alnico Blue and the Vintage 30. I have those set up in 1-by-12 and 2-by-12 configurations, as the IRs simulate the cabinet design as well as the speaker cone itself — open-back, closed-back, all the options. The Blue has this high-end presence that, for some reason, really helps with my in-ear monitor mix. It just sounds frickin' killer. The cool thing, too, is that you can run a 50-watt head like the Morgan into the speaker simulation at full power, which in the real world might blow a physical speaker. The Waza has a through output for an actual cabinet, which you might use to record a miked signal along with a direct signal in the studio. Onstage, we're not doing that. Point being, the Celestion IRs sound so good that we don't have to!"
And for guitarists who might be skeptical and think nothing can replace a real speaker, Bennet adds:
"In a live setting, you totally gain a lot more than you lose by using the Celestion IRs. The benefits to your monitor mix, to making the front-of-house engineer's job easier, to the general cleanliness of everything, are just huge. It's also a lot easier to keep your stage volume manageable. For realism, the Celestion IRs are spot-on. Another cool thing is, you can throw a hair of room reverb on the final output, which spreads the sound out in a realistic acoustic fashion, especially if you run in stereo as we do."
And now especially when many are social distancing and working at home, Bennett points out the advantages of being able to work remotely with Celestion IRs.
"Two months ago or so I did a remote session. I didn't tell anyone what my signal chain was, and the clients emailed me asking, "Man, this sounds great! What kind of amp and cabinet are you using? Which mics?," says Bennett. "When I tipped them off that there was no cabinet and there were no mics, they could hardly believe it. Again, if you're working from home in a compromised room, the Celestion IRs actually sound better than miking a cabinet. With the Celestion IRs, it sounds like you recorded some rare and expensive cabinet in a world-class space."
Finally, Bennett Lewis points out the practical benefits of having so many IR tones at his disposal:
"If you do much recording, the Celestion Impulse Responses give you a whole arsenal of different speaker cones and cabinets. You're not just stuck with the sound of the one or two amps you might have. That's great for me because I've always been a jack of all trades," he adds. "I like everything from new country to Bowie to jazz and classical, so it's great to know that with the Celestion IRs, I can have the appropriate tones at arm's reach. For live use in the Maren Morris band, the Celestion IRs have been a complete game changer. There's definitely a renaissance of guitar "tone questing" going on right now, and this impulse response technology is at the center of it. I'm eager to see where it all goes."
Read the full interview with Bennett Dean Lewis here.
To explore the collection of authentic Celestion impulse responses including the Magnificent 7 Collection, visit Celestion Plus.
Visit Bennet Dean Lewis online at: bennettlewismusic.com.
About Celestion and Celestion Guitar Speakers
An important element to essential British guitar tone since the birth of Rock & Roll, Celestion Guitar Speakers are famous for their lively and vocal midrange character with plenty of sparkle and chime. With worldwide headquarters in Ipswich, England, Celestion design, develop and manufacture premium guitar and bass loudspeakers, and high-quality professional audio drivers for sound reinforcement. These world-renowned speakers are used onstage and in clubs, theatres and other venues the world over. Contact Celestion at: info@celestion.com and visit us on Facebook at www.facebook.com/celestion.
About Celestion Impulse Responses
Celestion IRs, which capture the essential behavior of the cabinet in the specific space in which it was recorded, including the frequency and phase response of single drivers as well as the interaction of multiple speakers, offer the user significant benefits. In both recording and live production, Celestion IRs enable the desired tone to be precisely and consistently reproduced regardless of the music recording or live sound environment. And IR users can escape the limitations of a single mic and cabinet setup and explore a universe of possibilities to create the perfect tone. Once you find a tone that you love, it can be precisely recreated, in the studio or on the road, time after time. And the IRs allow Celestion customers to audition specific models before purchasing one or more physical speakers.
Celestion IR digital downloads are available in uncompressed, industry standard .WAV format at 44.1 kHz, 48 kHz, 88.2 kHz and 96 kHz sample rates at 24 bit depth, in lengths of 200 and 500 milliseconds Once the files are downloaded and unzipped, users simply load the IRs into a convolution plug-in in their DAW or into other processing hardware. These formats will work in all known hardware capable of loading IRs, and for the most popular hardware Celestion have already grouped together the correct formats. Guitar processor manufacturers supported include Atomic Amps, Fractal Audio Systems, Kemper, Line 6, Logidy, Positive Grid, Two Notes, Headrush and Yamaha. The Celestion IR files may be downloaded in the sample rate and length appropriate for the hardware being used or as a complete package of all rates and lengths. Certain third party hardware requires the files to be converted into a proprietary format before use. Celestion Plus.