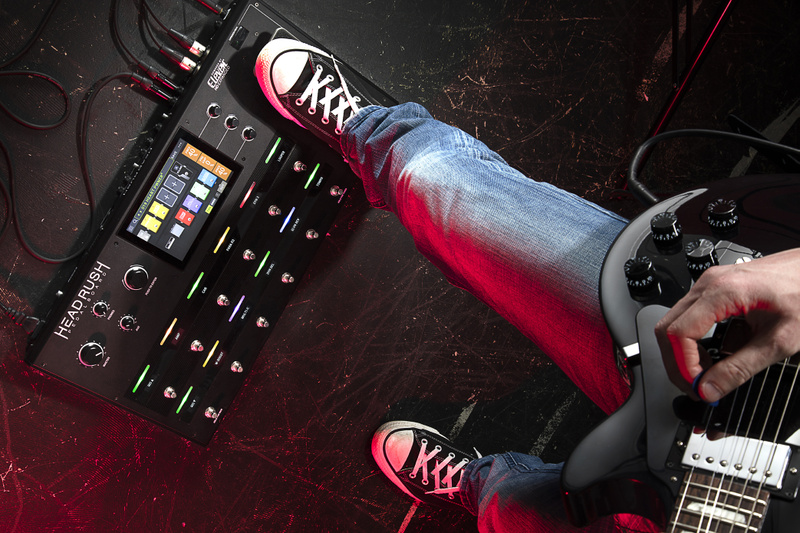 Cumberland, RI (May 22, 2017) — HeadRush, an innovative new manufacturer of next generation guitar products, is now shipping their first product, the HeadRush Pedalboard. Powered by a custom-built quad-core processor and their Eleven® HD Expanded™ platform, the HeadRush Pedalboard offers guitarists seemingly inexhaustible muscle to quickly create their favorite tones using highly realistic emulations of classic and modern effects, amplifiers, cabinets, and microphones.  A key element of this experience is its support of third-party impulse responses: precise sonic profiles of the tonal characteristics of sought-after speakers and amp cabinets. For those that are included right out-of-the-box, the HeadRush team chose Celestion Impulse Responses.
"The unique feature of the HeadRush Pedalboard is definitely the intuitive user interface," explains HeadRush product manager Walter Skorupski. "Since we have a touchscreen, creating rigs via drag-and-drop is quick and easy. It's a guitarist-centric workflow that comes very naturally. We're not just modeling the sound of the gear; we're modeling the experience of putting together rigs made up of all your dream gear!"
Celestion is, of course, known for drivers that typified the British rock sound, such as the famous "Alnico Blue" and "Greenback" models, which graced the insides of guitar cabinets from such names Marshall and Vox. Using digitally downloadable Celestion IRs, the sounds of these and other authentic Celestion guitar speakers are available to any musician who might not have the space or budget for a stable of vintage amps. Even for those who do, Celestion IRs offer unlimited creativity for the user and the ability to save favorite tones for later use, as well as the benefit of auditioning models before purchasing physical speakers.
"We announced the HeadRush around the same time Celestion launched their line of genuine Impulse Responses," says Skorupski. "We immediately knew we wanted to partner with Celestion because of their history, and also because of the high quality of the IRs they have put out. I highly recommend checking out their whole library, not just the ones we include. They're a great way to add even more great tones to your HeadRush."
Given the robustness of the HeadRush hardware, the Celestion IRs are able to run alongside everything else the pedalboard can do — which is quite a lot, as Skorupski details:
"You have 11 slots per preset along with options to change the routing of these slots. You can load one effect or impulse response per slot, or two amplifier or cabinet models per slot. Our Eleven HD Expanded platform has incredibly faithful high-definition models of all the classic and modern gear you'll ever need, and combines them with never-before-seen features on a guitar pedalboard of this magnitude, like gapless preset switching with reverb and delay tails, a looper with 20 minutes of recording time, advanced signal chain routing, and much more."
The touchscreen assures that the process remains a breeze as well. "Most guitarists will program the HeadRush up on a table or desk, then put it on the floor [for playing live]," Skorupski explains. "Since our user interface is so intuitive, we were able to cut down on the amount of controls, letting you make adjustments faster than you could on any other pedalboard in either position. At the gig or rehearsal, you can use our Hands-Free Mode to adjust any parameter of your rig preset by using the expression pedal."
And just as the sound of any classic guitar amp is more than that of the drivers alone, the Celestion IR experience included in the HeadRush goes beyond "bare" speaker cones:
"The included impulse responses are the speakers in the context of cabinets, as well as the microphones, acoustic space, and other recording gear used when recording the response," he adds. "Recording a high-quality IR is a very complex process, but Celestion has perfected it!"
To learn more about the HeadRush pedalboard, visit www.headrushfx.com.
About Celestion Impulse Responses
Celestion IR digital downloads are available in uncompressed, industry standard .WAV format at 44.1 kHz, 48 kHz, 88.2 kHz and 96 kHz sample rates at 24 bit depth, in lengths of 200 and 500 milliseconds Once the files are downloaded and unzipped, users simply load the IRs into a convolution plug-in in their DAW or into other processing hardware. These formats will work in all known hardware capable of loading IRs, and for the most popular hardware Celestion have already grouped together the correct formats. Guitar processor manufacturers supported include Atomic Amps, Fractal Audio Systems, HeadRush, Kemper, Line 6, Logidy, Positive Grid, Two Notes and Yamaha. The Celestion IR files may be downloaded in the sample rate and length appropriate for the hardware being used or as a complete package of all rates and lengths. Certain third party hardware requires the files to be converted into a proprietary format before use. Celestion Plus
About Celestion and Celestion Guitar Speakers
An important element to essential British guitar tone since the birth of Rock & Roll, Celestion Guitar Speakers are famous for their lively and vocal midrange character with plenty of sparkle and chime. With worldwide headquarters in Ipswich, England, Celestion design, develop and manufacture premium guitar and bass loudspeakers, and high-quality professional audio drivers for sound reinforcement. These world-renowned speakers are used onstage and in clubs, theatres and other venues the world over. Contact Celestion at: info@celestion.com and visit us on Facebook at www.facebook.com/celestion.