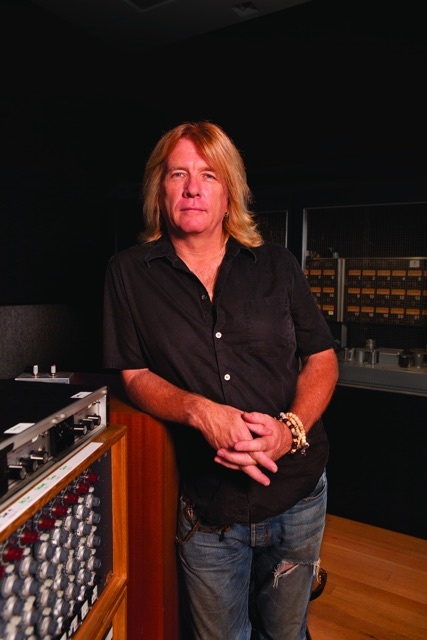 Los Angeles, CA (November 12, 2018) — Sometimes people's names just fit. Take Canadian Music Hall of Famer Robert Jens Rock, who has lent his production acumen to so many albums by today's hardest-hitting and most successful bands that saying, "This record needs to Rock," might as well be how they come to work with him. His lifelong use of Celestion guitar speakers was a natural springboard into his recent adoption of Celestion Impulse Responses — the digitally downloadable versions of classic Celestion tones — meant for use in today's profiling amps, modeling software, and convolution-processing audio plug-ins.
"For most guitar sounds, whether it's been for James Hetfield of Metallica or Mick Mars of Mötley Crüe, the drivers in the amps have been Celestion," says Rock about two of the heavy metal juggernauts with whom he's most readily name-checked. "Whether the head is a Boogie or a Marshall, it's always Celestion in the cabinet. I like the low-powered Greenbacks in a four-by-12″ configuration. Same with the Creambacks. Sometimes I also like a single 12″ Red in an open cabinet. When tracking, I also like to get the guitar player really involved with getting the sound, and with Celestion speakers that process is very quick."
Sometimes, however, Rock needs to be even quicker, as when auditioning sounds for demos. "I first heard about the Celestion IRs [impulse responses] through my friend Alexander Dumble, who makes the boutique Dumble amplifiers," Rock explains. "I then learned more about them from Rick Skillman at Celestion, and loaded all the IRs into my Kemper Profiler amp. I have go-to sounds, and with the impulse responses, I always find something that makes it more real."
Often, Rock has to refine a guitar track that was recorded quick-and-dirty, for which he finds the IRs invaluable "There's this amazing thing that just happened. I was mixing this stuff that had average, in-the-box guitar sounds. The engineer I work with, Adam Greenholtz, loaded all the IRs into a plug-in so we could audition them in the mix. I put the Celestions on the guitars and — oh my God! It was like re-amping, only really easily. I've had to re-amp some truly horrible guitar sounds along the way. With these IRs, you can take a bad guitar sound and make it actually quite good."
"The Celestion Impulse responses are a sonic revelation — great choices for my Kemper Profiler and my in-the-box plug-ins," Bob sums up, "They're a must-have for pro studios and home recordists alike. I want to see [IRs for] the seriously vintage stuff, like pre-'Rola' speakers. That's what we call 'Bob food!' But to use Celestions for 40 years and now have this? Thank you Celestion. You rock!"
About Celestion and Celestion Guitar Speakers
An important element to essential British guitar tone since the birth of Rock & Roll, Celestion Guitar Speakers are famous for their lively and vocal midrange character with plenty of sparkle and chime. With worldwide headquarters in Ipswich, England, Celestion design, develop and manufacture premium guitar and bass loudspeakers, and high-quality professional audio drivers for sound reinforcement. These world-renowned speakers are used onstage and in clubs, theatres and other venues the world over. Contact Celestion at: info@celestion.com and visit us on Facebook at www.facebook.com/celestion.
About Celestion Impulse Responses
Celestion IRs, which capture the essential behavior of the cabinet in the specific space in which it was recorded, including the frequency and phase response of single drivers as well as the interaction of multiple speakers, offer the user significant benefits. In both recording and live production, Celestion IRs enable the desired tone to be precisely and consistently reproduced regardless of the music recording or live sound environment. And IR users can escape the limitations of a single mic and cabinet setup and explore a universe of possibilities to create the perfect tone. Once you find a tone that you love, it can be precisely recreated, in the studio or on the road, time after time. And the IRs allow Celestion customers to audition specific models before purchasing one or more physical speakers.
Celestion IR digital downloads are available in uncompressed, industry standard .WAV format at 44.1 kHz, 48 kHz, 88.2 kHz and 96 kHz sample rates at 24 bit depth, in lengths of 200 and 500 milliseconds Once the files are downloaded and unzipped, users simply load the IRs into a convolution plug-in in their DAW or into other processing hardware. These formats will work in all known hardware capable of loading IRs, and for the most popular hardware Celestion have already grouped together the correct formats. Guitar processor manufacturers supported include Atomic Amps, Fractal Audio Systems, Kemper, Line 6, Logidy, Positive Grid, Two Notes, Headrush and Yamaha. The Celestion IR files may be downloaded in the sample rate and length appropriate for the hardware being used or as a complete package of all rates and lengths. Certain third party hardware requires the files to be converted into a proprietary format before use. Celestion Plus