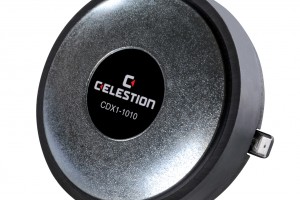 Developed at Celestion's headquarters in Ipswich, England, the 8 ohm CDX1-1010 provides 15-watt power handling (AES Standard, RMS) and delivers 105dB sensitivity over a frequency range of 1500-20,000Hz.
The magnet assembly and overall acoustic design have been optimised using sophisticated FEA (Finite Element Analysis) modelling techniques, to deliver a much smoother frequency response than many comparable drivers on the market.
A2200Hz minimum recommended crossover point ensures the CDX1-1010 can be quickly and easily dropped into an existing design or used as a component upgrade during servicing.
The ferrite magnet device features a standards 35mm/1.38-inch diameter screw fitting and is fabricated using a rigid engineering thermoplastic.
Internally, acoustic foam is utilised to minimise air cavity resonances, dampening unwanted reflections from the inside of the cover. A single piece PETP diaphragm and surround is held in place by a precision aluminium carrier, ensuring consistent reliable performance and facilitating a smooth frequency response.
CDX1-1010 is ideal for use with entry-level two-way and three-way systems and is available worldwide, now.