Specifications
300W
Continuous power rating
Nominal diameter
305mm / 12in
Continuous power rating
300W
Frequency range
60-4000Hz
Chassis type
Pressed steel
Magnet weight
1.2kg / 42oz
Voice coil diameter
50mm / 2in
Voice coil material
Round copper
Former material
Polyimide
Cone material
Kevlar loaded paper
Surround material
Cloth-sealed
Gap height (Hg)
8mm / 0.31in
VC winding height (Hvc)
12mm / 0.47in
---
Parameters
Mounting Information
Overall diameter
309mm / 12.17in
Overall depth
131mm / 5.2in
Cut-out diameter
283mm / 11.14in
Mounting hole dimensions
7.9mm / 0.31in Ø
Number of mounting holes
4
Mounting hole PCD
297mm / 11.69in
Unit weight
4.0kg / 8.8lb
Packed Dimensions & Weight
Single pack size W x D x H
330mm x 330mm x 150mm / 13in x 13in x 5.9in
Single pack weight
4.5kg / 9.9lb
Multi pack size W x D x H
1080mm x 980mm x 880mm / 42.5in x 38.6in x 34.6in
Multi pack weight
275kg / 600lb
Frequency Response and Impedance Curves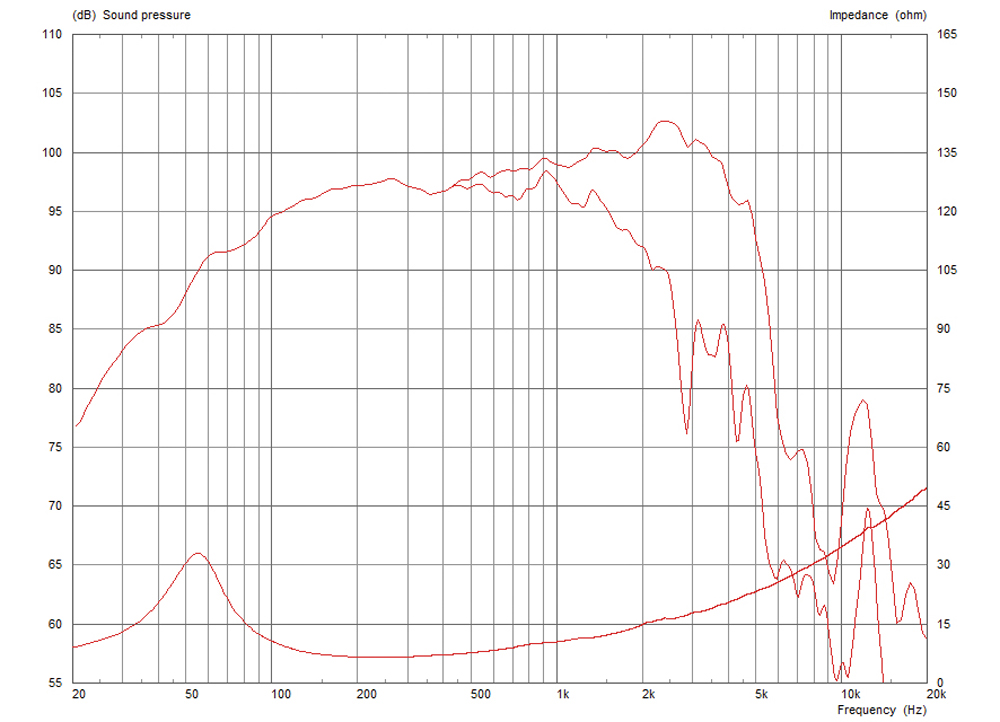 Topmost curve: Frequency response on axis | Secondary curve: Frequency response at 45° off axis
---
Power rating: Tested for two hours using a continuous, band-limited pink noise signal as per AES standard. Power calculated on minimum impedance. Loudspeaker tested in free air.
Continuous power rating: Defined as 3dB greater than the AES rating.
Sensitivity: Measured on axis at 1W, 1m in 2π anechoic environment.
Parameters: Measured after unit subjected to pre-conditioning signal.
Xmax: 0.5*(Hvc-Hg) + 0.25*Hg