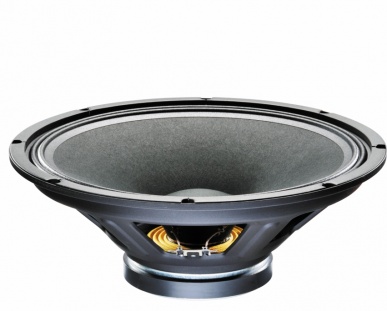 Celestion have designed a ported, two way cabinet, specifically for use with the TF1525 ferrite magnet, LF driver and CDX1-1425 compression driver (with Celestion horn H1-9040P). Cabinet specifications are:

Material: 18mm MDF or 15mm/18mm birch plywood
For more information on the design including detailed dimensions and crossover configuration, see the attached PDF document below.
Click for details on the TF1525 and CDX1-1425.
Ported Cabinets
A ported or reflex cabinet is a simple box enclosure with one or more holes (ports) added on the front baffle. For most PA uses, this offers the best option for building a clean sounding loudspeaker cabinet that makes the most of the bass driver used. The addition of the port can extend bass driver performance and will also marginally improve the speaker's low frequency power handling and efficiency.
The energy from the front of the driver is radiated to the outside world. But the sound from the back of the speaker also has an effect, as it vibrates the air in the port(s). This has a resonant frequency, like an organ pipe, adding to the sound output of the system. If the port(s) are designed correctly, the additional energy will extend bass performance without adding distortion or sacrificing a smooth response.
Construction Notes
1. Joints must be airtight and be securely glued and screwed to avoid unwanted vibration
2. Cover the top/bottom/sides and rear panels with acoustic wadding, ensure that the wadding does not cover port tubes
T-nuts and fixing bolts are recommended for driver fixing. Use a suitable gasket between the driver unit and cabinet to prevent air leaks.
For more cabinet designs, click here for the Cabinet Handbook.