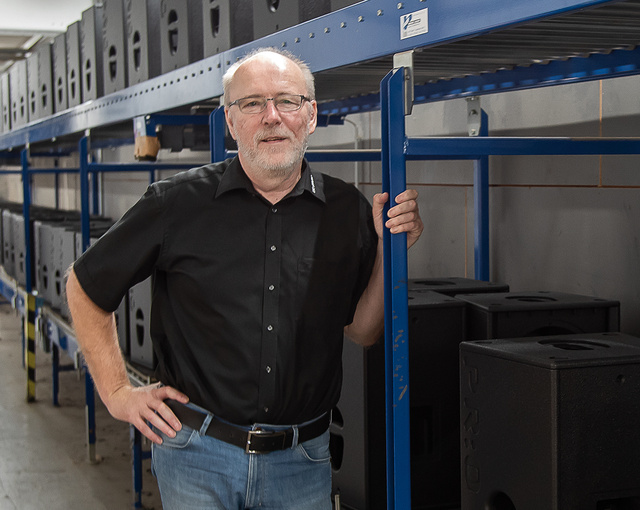 Brothers Hans and Lothar Stamer have dual identities in the pro audio industry. On the one hand, their guitar amp and accessory brand Hughes & Kettner is sought after for being high-tech, high-end, and offering ultimate tone since 1984. And their celebrated company, HK Audio, delivers PA systems ranging from portable battery-powered units suitable for singer-songwriters to large line arrays and everything in between. Not surprisingly, this means they know a thing or three about speakers. We were privileged to speak with Lothar Stamer about the brothers' musical roots and philosophy as makers of some of the best musical equipment on the planet.
What is your favorite album of all time and why?
I think Pink Floyd is incredible. It's hard to pick just one album, but 'The Wall' is a rock opera with so many layers that you can easily listen through it, whatever mood you're in, without even thinking of skipping a song. I am truly in awe of the infinitely vast realms of 'Wish You Were Here' and the sheer power of 'Animals' every time I listen to them. It really is music for the ages.
What is the thing that made you want to be part of the audio/music industry? How did you get your start in the business? And with this company? What is your current position and how did you get there?
As a drummer in a band in the late '70s, I was the one who was responsible for the sound system. That was the time when things started to move away from pure "vocal systems" and more towards PA systems that could amplify all the instruments. This involvement with PA technology is where my fascination for sound started. I was amazed that just one speaker and two cables could ignite so much emotion. So, I experimented with the systems available on the market, but I wasn't really satisfied with any of the solutions I found. My studies at the time focused on speaker acoustics, and I began to develop and build my own PA systems, as I just knew that I could create something better. My brother Hans Stamer was also developing an interest in the field around that time, so in 1979 we founded the company Stamer Musikanlagen together, where I still work as CEO today.
How did your background influence the job you do now? The company overall?
I am an engineer and I love technology and developing new technologies. I am surrounded by people who share this passion in our company. We have been working on new ideas and on improving ourselves every day since the very beginning. And that's something that affects each and every employee as well as my own work.
You and your company are legendary in the industry. In your viewpoint, what is the main reason for that?
Our passion for sound is what we live for. Ever since we started, we have wanted to offer our customers better sound quality, more user benefits and increased ease of operation – or simply put: a better product. Our products are made in Germany, and for us, that's not just a sign of quality, but it shapes the very identity of our company as a community. I know the people who work for us, some of them I've known for many years, and I know the emotion and energy they put into producing and marketing our products. We feel confident the enthusiasm we have for our products is passed on to our users.
Which product do you consider your company's most innovative?
Throughout our company's history, we have been able to prove time and again that our philosophy of not only meeting customers' needs, but exceeding them, is the perfect catalyst for exciting innovations. That's why I can't necessarily single out just one product.
The ultra-compact HK Audio LUCAS NANO is the only professional stereo PA system that can be carried with one hand and yet still manages to deliver clear and powerful sound, even in the bass range.
HK Audio ELEMENTS combines a scalable line source principle with the wide-ranging possibilities of modern digital technology, offering professional users the benefits of networking, remote operation and an effective yet spectacularly simple cardioid function.
Our largest system to date, the HK Audio COSMO, takes line array performance to a new level of productivity and efficiency. The ability to operate it as a mixed array with different dispersion characteristics gives users the maximum flexibility in a wide variety of live sound scenarios.  
 What do you think has been the single most important technological achievement in our industry?
The combination of mathematics and computers, or more specifically, simulation technology. Simulations play a huge role in our development processes. They save us an incredible amount of time.
What is the accomplishment that you are most proud of?
The development of the Multicell transformer, which is also used in the LUCAS NANO 600, marks a major milestone for HK Audio. By transforming the acoustic resistance and running times of differently shaped horns arranged in parallel before the high-frequency driver, it enables purer sound, more precise dispersion, and more compact designs.
And then there is the "Spirit Tone Generator," a small revolution at Hughes & Kettner which reproduces the analogue processes of a tube circuit in an extraordinary way and gives guitarists an extremely versatile sound design tool.
Tell us a little about your company culture and your philosophy in leading the team.
Our company's strong foundation is based on three principles: a passion for music, the joy of creation and effortless top performance. Most of our 160 employees are active as musicians or audio engineers and are passionate about what they do. It is important to us to be able to offer them somewhere they can freely channel their enthusiasm and actively promote and shape our success. We see ourselves as a performance-oriented community with a rather light-hearted approach – after all, one can only truly achieve great results with a clear mind.
How is your company poised for the future?
As a modern mass producer, we make use of all options currently offered in terms of international production for the manufacture of our products. At the same time, it is important to us that we have our own skilled workers at our St. Wendel production site in Germany. Production is an important part of our identity. Close links and effective communication ensure that we can operate successfully, even in a rapidly changing market. Our focus is always on creating an outstanding sound experience. It is our way of respecting the musicians and sound engineers of this world – by giving them the best possible tools.
What music do you enjoy listening to these days?
For me, music is mainly about good sound that moves me. That's why I enjoy classics just as much as modern music. However, I often find live music more captivating than studio recordings. I recently had the opportunity to listen to the Dutch band De Staat live on an HK Audio COSMO line array. Hearing the band's power and dynamics over such a powerful system really wowed me.
##