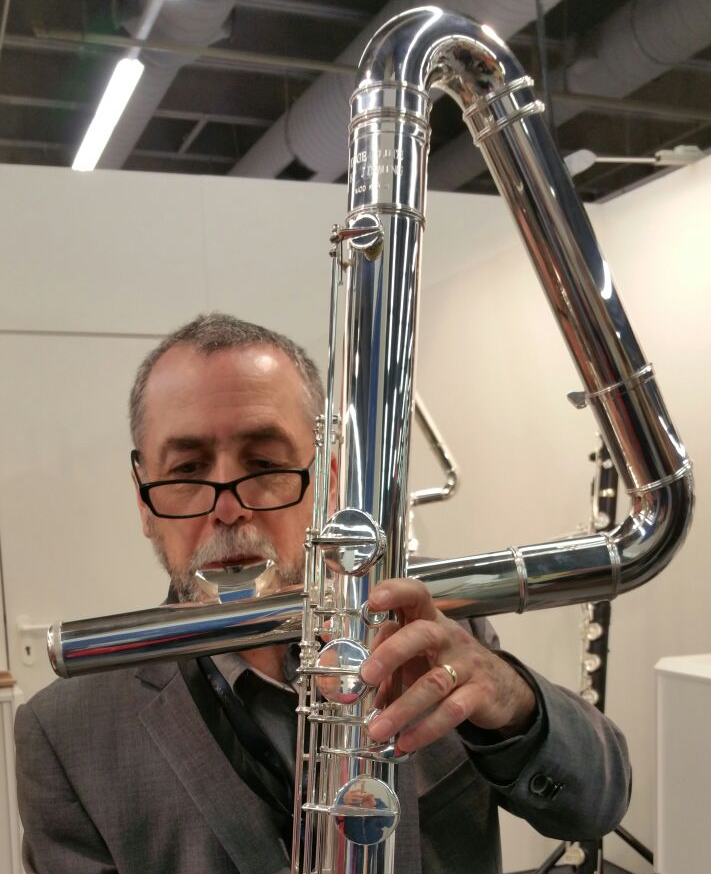 Like so many engineers in the pro audio industry, audio technology consultant Steve Hutt started out very young with a deep love of music and a persevering fascination with applied science and technology. After a decade with Harman managing an all-star engineering team developing high-performing vehicle sound systems, he stepped out on his own with an R&D consulting firm, Equity Sound Investments, assisting manufacturers with loudspeaker and transducer design. A longtime member and chair of the AES Technical Council, Technical Committee on Loudspeakers and Headphones, and the Standards Committee SC04-03 working group on loudspeaker modeling and measurement, Hutt has also been an industry leader in developing standards for loudspeakers. We had an engaging talk with Steve Hutt on music, various audio technologies, and … glue.
What is your favorite album of all time and why?
It's funny what goes through your mind when you get a question like that. How could I ever pick one? I'll give you an album: the Roy Haynes Quartet's Out of the Afternoon, from 1962. It has, um, Roland Kirk, Tommy Flanagan, Henry Grimes, and it's a really great, mainstream album of standards. I found it when I was a kid, and it was one of the first albums I listened to and thought, wow, what is this? I'd been listening to some Duke Ellington and some other jazz, and hearing Roland Kirk, it just got me started on being a fan.
What is the thing that made you want to be part of the audio/music industry? How did you get your start in the business? And with this company? What is your current position and how did you get there?
I grew up around music education. My mother is a piano teacher and she's still teaching. She'll be 96 in a couple of weeks. My father owned a retail music store in Toronto, kind of the local mom and pop shop, with a studio where musicians from the local scene used to come in and teach. There was a fair bit of night music in the 60's; some of the hotels had house bands. Getting into music, learning the saxophone, it was kind of a natural for me. On the audio side — like a lot of musicians, I had to learn how to run a PA and haul around a lot of big boxes. They were Altec, JBL, Martin, and so on. I got interested in how they worked, so I studied and learned how to design transducers for smaller systems that played loud. And I'm still working at it! Still trying.
I founded my own consulting company, Equity Sound Investments, in 2006, which is just me, but I occasionally hire outside people to work with me.
How did your background influence the job you do now? The company overall?
I'd been doing live sound, learning to build transducers and loudspeaker systems, and eventually I was selling some of my loudspeakers. With any small company, it's feast or famine, and I didn't want to run a company; I wanted to design. I'd been studying horns and directivity and such, and a job opportunity with Harman Automotive opened in Indiana. I joined as a transducer engineer and moved up to manage their R&D group for advanced technologies. We expanded the group to include people from Audax, a transducer company that Harman had bought. My role was to get the most out of some really clever people like Don Keele, Dick Small, and others. It was a great place to learn how to manage R&D and multinational groups.
Since I launched Equity Sound Investments, I've worked with companies such as THX and Dolby; Eighteen Sound in Italy had me reorganize their R&D. I started consulting for Celestion in 2016 and helped them on technical matters … and things we can't talk about. Overall, I consult on mostly automotive and pro.
You and your company are legendary in the industry. In your viewpoint, what is the main reason for that?
I would say integrity and perseverance, but probably mostly stubbornness (laughs). If I'm legendary, it's because I've been around a long time, and I talk a lot. I think AES and the connections and networking there have been fantastic. I've chaired the Standards Committee Working Group on loudspeakers and the Technical Committee on Loudspeakers and Headphones for some years.
Which product do you consider your company's most innovative?
As a consultant, I think that my innovation is listening and understanding what companies need and I can help them plan how to get there. I can speak truth to power; perhaps the tooling for a project will take 12 weeks, so the project itself won't be done in three months.
Some of the fifteen patents I did with Harman were quite innovative, but I think the most innovative is a patent that I own. It is based on quality assurance diagnostics for automotive audio, aimed at improving audio for all with the side benefit of reducing warranty costs.
What do you think has been/is the single most important technological achievement in our industry?
I have a one-word answer — glue! The most important technical achievement is glue.
Loudspeakers should meet at least three objectives. 1) "Make sound". 2) "Continue to make sound". Simply, the loudspeaker should never fail. Adhesives available today have improved by magnitudes since the early days of loudspeakers. Perhaps most importantly, as compared with even a few decades ago, mechanical bonds are maintained under extraordinary forces and heat. Quite simply, loudspeakers can now accept more input power and "continue to make sound" without breaking. 3) "Try to make good sound". When designing loudspeakers we try to achieve high acoustic performance with low distortion for specific tasks and bandwidth and so on. By choosing the correct glue, we can control performance by using appropriately stiff assembly joints or alternatively, soft joints with damping. When we control resonances we can tailor the sound to meet performance targets.
Glue, that's my final answer.
What is the accomplishment that you are most proud of?
I think it's working with really brilliant and intellectually curious people, some of whom have made iconic contributions to audio and loudspeakers. You know, playing in the sandbox. Contributing to the sandbox.
Tell us a little about your company culture and your philosophy in leading the team.
It's being respectful of other people. Sharing the knowledge and collaborating. Encouraging lateral thinking; sometimes the solution to an issue isn't right in front of you, but a little aside.
How is your company poised for the future?
It's perfectly poised (laughs)! I'm not going to hand off my company to anyone. So, I'm set to wind down over the next few years and go back to playing my saxophone. I do not take all of the offers I receive, and I'm picky about what projects I take on.
What do you think of Celestion as a company, and of their horn technology?
As a company, Celestion/GP Acoustics have a really fantastic staff, with really great skills and balance. And perseverance; they work through and do some innovative things. They're not flashy! The individuals like Mark Dodd and Jack Oclee-Brown — those guys are brilliant, and Bjørn Kolbrek, who's literally written the book on horns.
Celestion is able to couple their compression drivers through to the absolute optimized horn that can cater to any client's need for height, width, depth, and directivity. They have this one driver, the Axi, that can play from 300 Hz out to 20 kHz, right through the usual crossover zone with a single membrane. I've seen a lot in my time and it's very, very impressive. I'm a big fan!
What music do you enjoy listening to these days?
I never tire of the old artists. I listen to a fair bit of Latin music, and I like to stream WDNA from Miami. And I get a kick out of discovering new young musicians. When we hear some of the new players in their 20s, it blows my mind how solid they are, how they're standing on the shoulders of giants.
###