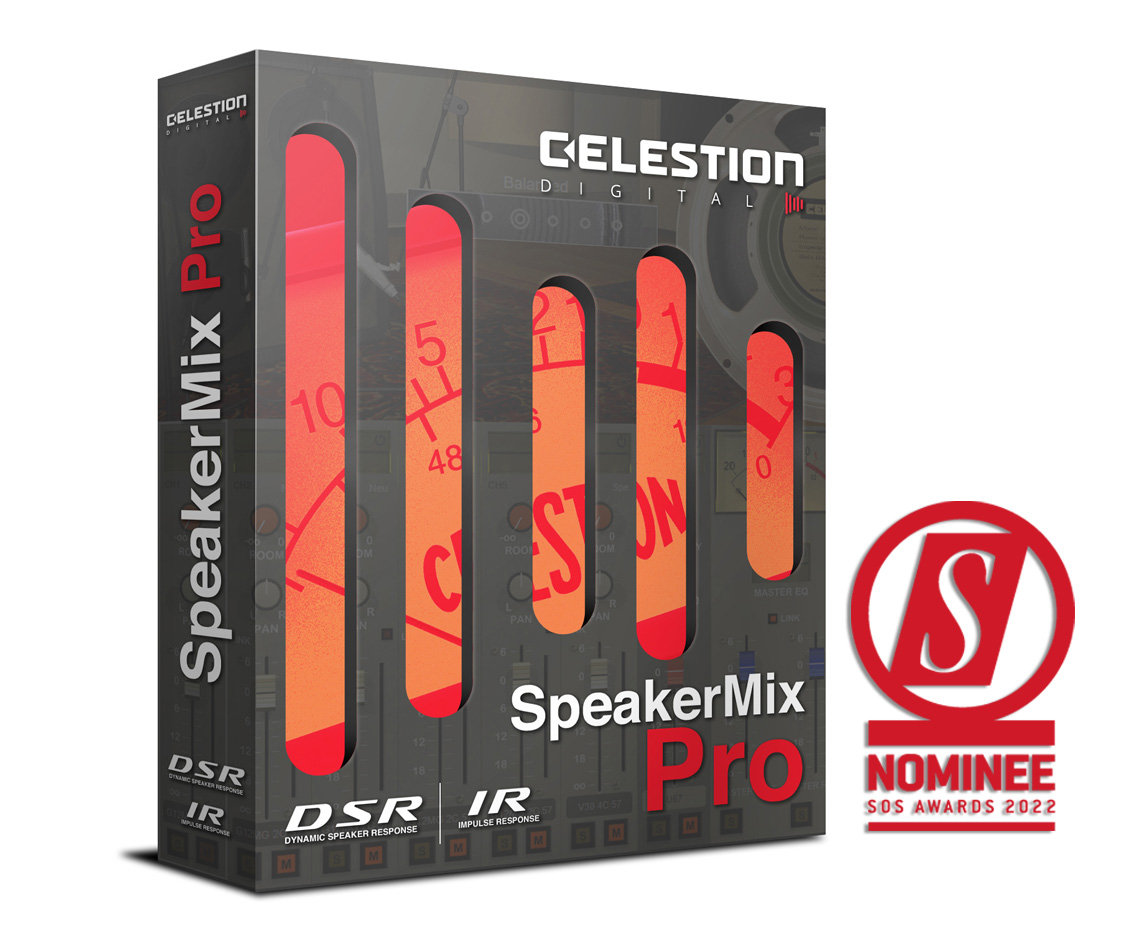 Our ground-breaking SpeakerMix Pro Plug-in has been nominated for a 2022 SOS Award by the editors of Sound on Sound magazine. 
SpeakerMix Pro is the self-contained studio-grade DAW plug-in which brings stunning levels of detail and realism to guitar and bass speaker tone, for use with Impulse Responses as well as the company's next-generation Dynamic Speaker Responses (DSRs.) All of these Celestion Digital products are available at CelestionPlus.com.
Celestion Impulse Responses have become the go-to speaker emulation solution in studios and on live rigs of many professional guitarists, bassists and music producers. The SpeakerMix Pro plug-in is much more than just a top-level IR loader and convolution engine for hosting impulse responses—it offers pristine sound, mixes up to six channels of different IRs into a stereo or mono track and even fixes IR sample rate/project mismatches.
As the host program for the new Celestion Dynamic Speaker Responses (DSRs) — the next generation of digital speaker responses that capture the sound and feel of the speaker's dynamic, non-linear response for even more tonal detail —SpeakerMix Pro presents a genuine next-generation virtual speaker solution.
With SpeakerMix Pro, users can:
Mix up to six responses together to create the perfect and unique guitar or bass speaker sound.
Integrate a personal library of Celestion and third-party Impulse Responses to make the most of the tools you've spent time and effort curating .
Add Celestion's superb room responses (or incorporate your own) into the mix for an authentic 'live' sound.
Deploy the unique Z-curve function to closely model the dynamic electrical coupling between amp and speaker.
Add a new dimension of sound and feel with Celestion's proprietary Dynamic Speaker Responses (DSRs), the next generation in Impulse Response technology: stunningly accurate guitar tone that also captures the sound and feel of the speaker's dynamic, non-linear response for even more detail and realism.
Use with our new DSRs for the capability to fine-tune the mic position, enabling you to adjust the position of the microphone across the speaker until you've found the tone that's just-right.
SpeakerMix Pro is available for VST, AU and AAX compatible DAWs, to allow users to achieve the ultimate guitar tone in recording.
Click this link to buy the SpeakerMix Pro plug-in, and to get each user started with the featured Dynamic Speaker Responses, the first ten DSRs are free with the plug-in purchase.
Vote for Celestion SpeakerMix Pro in the 2022 SOS Awards Here. Voting ends at midnight on 30 November 2021.
————————————————————————————————————————————————————————————————————-
The SOS Awards launched in 2010 with a mission to honour and celebrate the finest products in the industry. Now in its 12th year, each voting category consists of a shortlist of nominations selected by the SOS editorial team, with the Gear of the Year winners selected by the readers. The results will be compiled and announced at the end of January 2022.