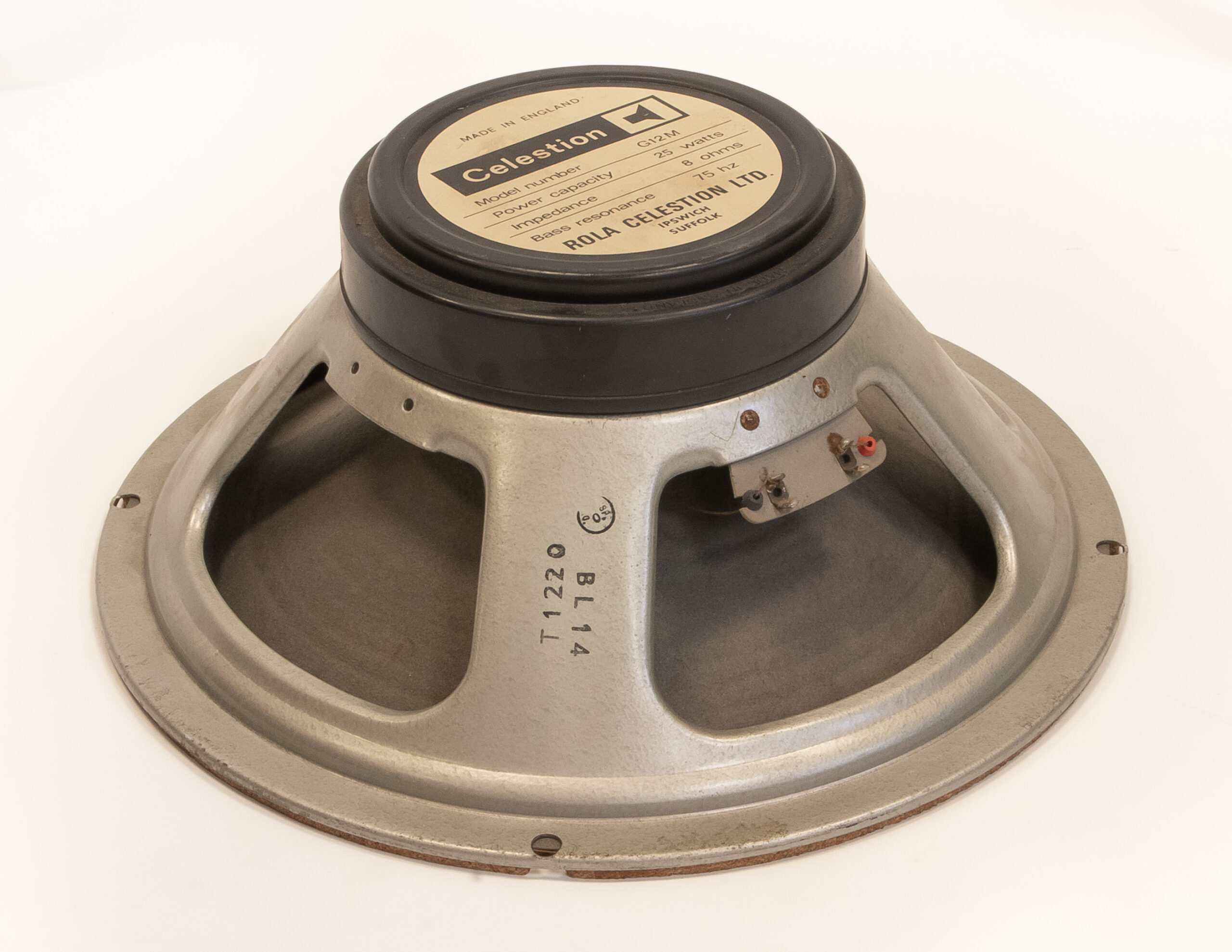 One question we're often asked is "how old is my speaker?" Well, whether it's truly vintage or was built just a handful of years ago, if your speaker is in reasonable condition, then it's straightforward to find this out for yourself.
Most Celestion chassis drivers have been marked with a date code (two numbers and two letters), denoting the exact date of manufacture. These codes are added on the production line and are found in different locations depending on the age (or type) of speaker.
They can be:
1. Stamped on the rim of the chassis (pre 1952);
2. stamped on the front gasket (1952-1967 and modern alnico guitar speakers);
3. on the speaker's chassis leg (1968-2001 and Heritage Series guitar speakers);
4. or printed onto a white ID label stuck onto the magnet's edge (2001 to date).
If you can track down the date code, then all you need to do is refer to the following table, which provides a record of the date codes used throughout the years, and you should be able to decipher the code.
Date codes are expressed in the form of two digits (representing the day of the month 01 to 31) and two letters, one being the month, the other being the year. You'll see from the table below that the format varies from time to time, sometimes the two digits denoting the day come first (DDMY), other times they come at the end (MYDD). Be mindful of the variation when working out your speaker's age.
From the speaker in the photo we can see that the date code is BL14, so the format is MYDD. That makes the date for this speaker February 14, 1978.
With acknowledgement to Michael Doyle who did some great research work in the early 1990s verifying the format of pre-1968 date codes. You can read more about that in his fine book, The History of Marshall. More recently, Brian Harding has done a great deal of in-depth work investigating and compiling date codes from the early 1950s, going as far back as 1944: we're grateful to him for that information and happy to include it here. You can read more about Brian's investigations on his excellent website: Bygone Tones.

Celestion Date Codes
MONTH
1944 – 1955


[DDMY]

1956 – 1968


[DDMY]

1969 – 1991


[MYDD]

1991 – 2014


[DDMY]

2015 – Date


[MYDD]

A – Jan
A – 1944
A – 1956
B – 1969
A – 1991
A – 2015
B – Feb
B – 1945
B – 1957
C – 1970
B – 1992
B – 2016
C – Mar
C – 1946
C – 1958
D – 1971
C – 1993
C – 2017
D – Apr
D – 1947
D – 1959
E – 1972
D – 1994
D – 2018
E – May
E – 1948
E – 1960
F – 1973
E – 1995
E – 2019
F – Jun
F – 1949
F – 1961
G – 1974
F – 1996
F – 2020
G – Jul
G – 1950
G – 1962
H – 1975
G – 1997
G – 2021
H – Aug
H – 1951
H – 1963
I/J – 1976
H – 1998
H – 2022
I/J – Sep
I/J – 1952
I/J – 1964
K – 1977
J – 1999
J – 2023
K – Oct
K – 1953
K – 1965
L – 1978
K – 2000
L – Nov
L – 1954
L – 1966
M – 1979
L – 2001
M – Dec
M – 1955
M – 1967
N – 1980
M – 2002
A – 1968*
P – 1981
N – 2003
Q – 1982
P – 2004
R – 1983
Q – 2005
S – 1984
R – 2006
T – 1985
S – 2007
U – 1986
T – 2008
V – 1987
U – 2009
W – 1988
V – 2010
X – 1989
W – 2011
Y – 1990
X – 2012
Z – 1991
Y – 2013
Z – 2014