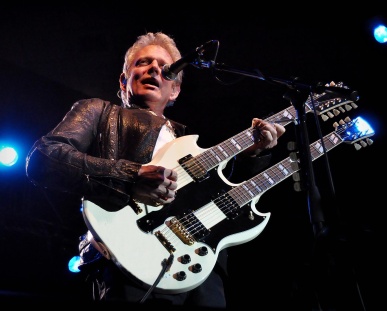 Don Felder is renowned as former lead guitarist of The Eagles, one of the most popular and influential rock groups of our time. The band's record-setting compilation Their Greatest Hits (1971-1975) sold over 29 million copies in the U.S. alone and was awarded by the RIAA the top-selling album of the 20th Century. A member of The Rock and Roll Hall of Fame since 1998, Felder served as a member of The Eagles for 27 years, putting his mark on numerous Eagles milestones.
Felder originated to music and co-wrote The Eagles biggest hit, the iconic, Grammy-studded smash Hotel California, along with fan favorites like Victim of Love and Those Shoes. He became immediately celebrated for his lyrical, signature guitar work on legendary songs like Hotel California, One of These Nights, New Kid In Town, and numerous more.
According to Don,"Celestion has the best tone in the business. They are also by far the most road worthy speakers I've used." He's recently been using Celestions in his Fender 65 re-issue Delux Reverb cabs and will be loading his new Dumble cabs with all Celestion for the upcoming tour with Foreigner and Styx.