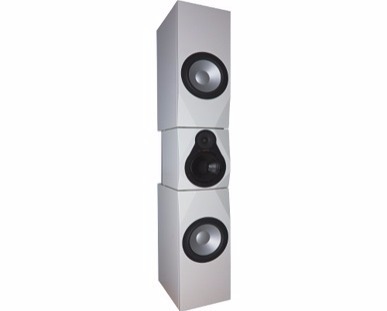 Designed by our good friends at Lautsprechershop www.lautsprechershop.de and available as a built it yourself kit, Javari is a high performance loudspeaker system that can be configured for different situations: as a passive speaker, as an active solution and in a wide variety of modular setups – compact, XL and XXL.
What is it?
The heart of the Javari is a compact speaker which transforms into the high-midrange component of XL and XXL floor-standing configurations. A high efficiency Alcone AC 15 textile dome tweeter is paired with a Celestion FTR08-2011D, giving an astoundingly high overall efficiency of 93 dB.
Due to its high efficiency the Javari is a lot of fun to use, whether it is controlled by a tube amplifier or the broad dynamic range required for the home cinema. For the Javari XXL Tower, the Javari Top is accompanied by two subwoofer columns, each of one contains an Alcone AC 10 subwoofer driver.
The Javari Top uses a crossover of 2nd order (12 dB per octave slope). In this setup, the Javari top gets a first-order high-pass filter with large capacitors, the subwoofers are filtered via a second-order low-pass. The frequency response of the speaker is quite linear with a slight peak at 12 kHz.
At an average sound pressure level of 85 dB (1m), the non-linear distortions above 400 Hz are extremely low. At 95 dB SPL (1m) these distortions still are well controlled. The decay spectrum shows almost no irregularities except for some resonances around 500 Hz.
Technical data
impedance: 4 Ohm
sensivity (2,83V/1m): 94 dB
size (HxWxD): 1760 x 300 x 400 mm
frequency range (-8dB): 28 – 20000 Hz
crossover frequency(s): 150, 2200 Hz
speaker type: bass reflex
For more details, plans and a kit list, click here.