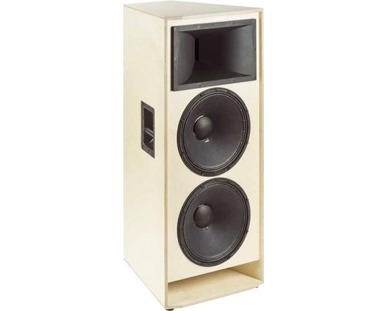 The kit provides a Celestion CDX20-3020 driver with a P-Audio PH-2380 horn as tweeter. Two Celestion FTR15-4080F are used for the bass range.
Orwell MK2 is developed by Daniel Gattig and Dennis Frank.The crossover consists of a 3rd order high-pass filter (18 dB per octave slope) for the tweeter. A 2nd order low pass filter (12 dB per octave slope) is connected to the lower woofer and has a cut-off frequency of 300 Hz.
 The upper woofer is connected to a 2nd. order low pass filter with a cut off frequency of 1000 Hz. In the bassrange below 300 Hz both woofers are working in parallel.The frequency response of this speaker nearly linear.
The decay spectrum shows some little horn typical artefacts. At medium volume, i.e. 95 dB at 1 m, the nonlinear distortions are lower than 1% between 150 and 5000 Hz; at a level of 105 dB at 1 m the distortion is below 1.5%.
Our kit consists of:
Celestion CDX20-3020, 3 inch-Titanium-Driver, 8 Ohm
P-Audio 2 inch horn PH-2380
2x Celestion woofer FTR15-4080F, 97dB, 40Hz-1.5kHz
PE sealing tape, 5×2 mm, 7.5 m
2,5x Foam N25, 100x50x4 cm, black
2x Neutrik Speakon NL4MPR, connector round, 4 pin
4m Speaker cable 2×2.5 mm2, transparent
26x 1 pieces drive-in nuts M6, DIN 6930 g zinc-plated
16x 1 pieces Allen screws M6x50, DIN 912, black
10x Counter sunk screw black phosphatised M 6 x 30
4x Adam Hall 4907 rubber foot
2x Handle recess GSM-220, steel 22×16 cm, black
Plan for DIY kit
Technical data
impedance: 4 Ohm
sensivity (2,83V/1m): 98 dB
size (HxWxD): 1250 x 500 x 500 mm
frequency range (-8dB): 50 – 21000 Hz
crossover frequency(s): 1000 Hz
speaker type: bass reflex