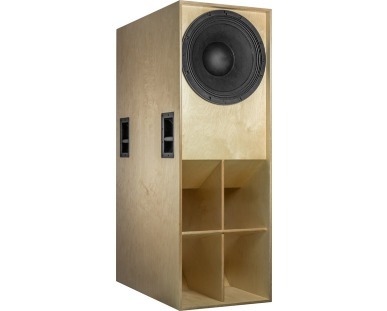 Scoop 18 is a versatile subwoofer which complements the rest of the loudspeakers with a powerful and deep bass of highest efficiency.
Scoop 18 is a horn loudspeaker. The horn is fed by the rear part of the driver (back loaded horn).
The kit is delivered with a 18 inch Celestion CF18VJD PA woofer.
Our kit consists of:
Celestion CF18VJD
PE sealing tape, 5×2 mm, 7.5 m
Foam N25-30, 100 x 50 cm, black
2x Neutrik Speakon NL4MPR, connector round, 4 pin
4m Speaker cable 2×2.5 mm2 black/red
8x 1 pieces drive-in nuts M6, DIN 6930 g zinc-plated
8x 1 pieces Allen screws M6x50, DIN 912, black
5x Pan screws 4×20 black, 8 pieces
4x Handle recess GSM-220, steel 22×16 cm, black
Plan for DIY kit