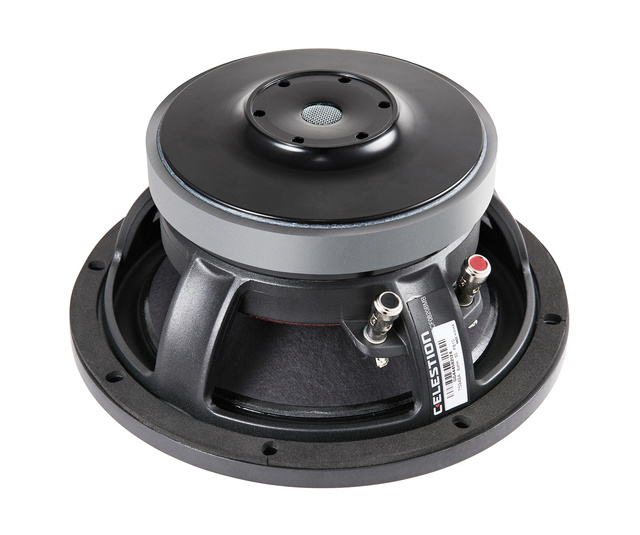 Ipswich, UK (March 22, 2022) —Celestion, one of the world's leading suppliers of professional loudspeakers and compression drivers for sound reinforcement applications is announcing that the CF0820BMB and CF0820M, two of its 8-inch (200mm) diameter ferrite magnet, cast aluminum chassis professional audio LF loudspeakers are now available packaged individually for dealers and distributors to sell to retail.
The Celestion CF0820BMB is purpose built for bass and mid-bass applications. Perfectly suited to two-way systems, it packs an impressive amount of low end for such a compact driver. CF0820BMB features a 2"/50mm multi-layer voice coil providing 250Wrms (AES standard) power handling and 93dB sensitivity with an output frequency range of 50Hz to 6 kHz. The half roll elastomer surround enables greater stability at extremes of excursion, along with improved modal distribution for reduced distortion. Balanced Airflow Venting (BAV) increases airflow around the coil and inner magnet assembly to provide enhanced cooling, preventing sensitivity loss through thermal compression.
The Celestion CF0820M is a dedicated midrange driver designed for straightforward three-way systems, horn-loaded or line array applications. The driver delivers 250Wrms (AES standard) power handling and 98dB sensitivity, with an output frequency range of 150Hz to 6 kHz. CF0820M features a copper sleeved pole to reduce inductive rise for improved HF performance. The low profile aluminium chassis enables close packing in applications where multiple drivers are required, while an inverted dust cap enables the close positioning of a phase plug where horn-loading is required.
Developed at Celestion's headquarters in Ipswich, England, these loudspeakers are designed using specialist FEA (Finite Element Analysis) modelling techniques, enabling the Celestion engineering team rapidly to achieve genuine increases in performance, including greater efficiency, and exceptionally low distortion.
These two high performance cast aluminium loudspeakers emphasize Celestion's continuing commitment to delivering a wide range of high-quality solutions for sound reinforcement and professional audio applications.
About Celestion
With worldwide headquarters in Ipswich, England, Celestion design, develop and manufacture premium guitar and bass loudspeakers, and high-quality professional audio drivers for sound reinforcement. These world-renowned speakers are used onstage and in clubs, theatres and other venues the world over. Contact Celestion at: info@celestion.com and visit us on Facebook at www.facebook.com/celestion.