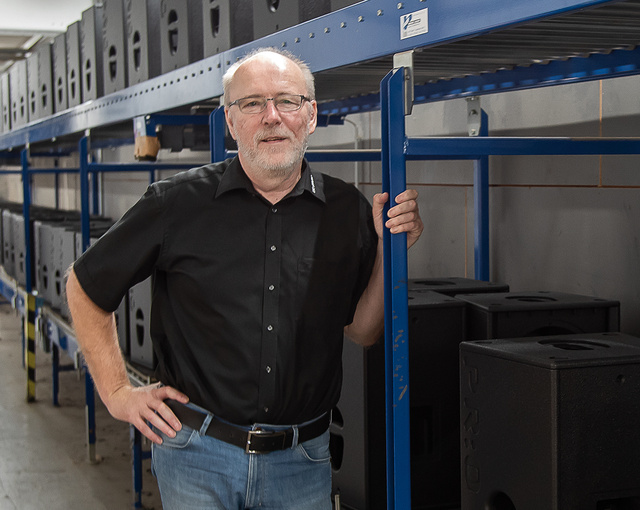 St. Wendel, Germany (April 21, 2022) — Brothers Hans and Lothar Stamer have dual identities in the pro audio industry. On the one hand, their guitar amp and accessory brand Hughes & Kettner is sought after for being high-tech, high-end, and offering ultimate tone since 1984. And their celebrated company, HK Audio, delivers PA systems ranging from portable battery-powered units suitable for singer-songwriters to large line arrays. Celestion sat down with Lothar Stamer to speak about the brothers' musical roots and philosophy, the pro audio industry, the company's technology and music in general.
Starting out as a drummer in a band who was responsible for the sound system, Stamer first began to experiment with PA systems solutions:
"As a drummer in a band in the late '70s, I was the one who was responsible for the sound system. That was the time when things started to move away from pure "vocal systems" and more towards PA systems that could amplify all the instruments. This involvement with PA technology is where my fascination for sound started. I was amazed that just one speaker and two cables could ignite so much emotion. So, I experimented with the systems available on the market, but I wasn't really satisfied with any of the solutions I found. My studies at the time focused on speaker acoustics, and I began to develop and build my own PA systems, as I just knew that I could create something better. My brother Hans Stamer was also developing an interest in the field around that time, so in 1979 we founded the company Stamer Musikanlagen together, where I still work as CEO today."
Stamer points out that his company's legendary position in the industry is a result of their collective passion for sound as well as top quality engineering and manufacturing.
"Our passion for sound is what we live for. Ever since we started, we have wanted to offer our customers better sound quality, more user benefits and increased ease of operation – or simply put: a better product. Our products are made in Germany, and for us, that's not just a sign of quality, but it shapes the very identity of our company as a community. I know the people who work for us, some of them I've known for many years, and I know the emotion and energy they put into producing and marketing our products. We feel confident the enthusiasm we have for our products is passed on to our users."
When asked to name HK Audio's biggest product innovation, Stamer points to a number of the company's technological innovations:
"The ultra-compact HK Audio LUCAS NANO is the only professional stereo PA system that can be carried with one hand and yet still manages to deliver clear and powerful sound, even in the bass range. And the HK Audio ELEMENTS combines a scalable line source principle with the wide-ranging possibilities of modern digital technology, offering professional users the benefits of networking, remote operation and an effective yet spectacularly simple cardioid function, he says. "Our largest system to date, the HK Audio COSMO, takes line array performance to a new level of productivity and efficiency; the ability to operate it as a mixed array with different dispersion characteristics gives users the maximum flexibility in a wide variety of live sound scenarios."
"Throughout our company's history, we have been able to prove time and again that our philosophy of not only meeting customers' needs, but exceeding them, is the perfect catalyst for exciting innovations," concludes Stamer. "That's why I can't necessarily single out just one product."
Click here to read the full interview with Lothar Stamer on the Celestion Speakerworld blog.
About Celestion
With worldwide headquarters in Ipswich, England, Celestion design, develop and manufacture premium guitar and bass loudspeakers, and high-quality professional audio drivers for sound reinforcement. These world-renowned speakers are used onstage and in clubs, theatres and other venues the world over. Contact Celestion at: info@celestion.com and visit us on Facebook at www.facebook.com/celestion. www.celestion.com
###