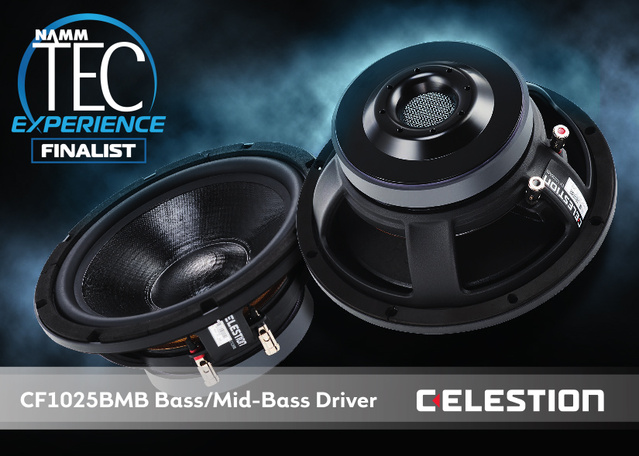 Ipswich, UK (February 12, 2023) —Celestion, one of the world's leading suppliers of professional loudspeakers and compression drivers for sound reinforcement applications, is pleased to announce that the CF1025BMB 10-inch (254mm) diameter ferrite magnet, cast aluminum chassis professional audio loudspeaker has been named a finalist for the 2023 Technical Excellence & Creativity (TEC) Awards for outstanding technical achievement in the category of Sound Reinforcement Loudspeakers. Vote for the Celestion CF1025BMB here.
Well-suited to both bass and mid-bass applications, the new CF1025BMB particularly excels as a bass unit in compact subwoofer applications. The Celestion CF1025BMB features a 2.5"/64mm multi-layer voice coil providing 300W (AES standard) power handling and 92.5 dB sensitivity with an output frequency range of 45Hz to 5000Hz. The elastomer surround enables a longer Xmax compared to a conventional 10" mid-bass speaker, allowing the CF1025BMB to better reproduce lower frequencies. This makes the driver a natural solution for discreet, compact subwoofer applications. However, it also performs very smoothly up to 2kHz, making the CF1025BMB a superb option for 2-way designs with the added advantage of exceptional low frequency performance.
In addition to the extended low frequency performance, features include Celestion's smart airflow vented magnet assembly for dynamic heat dispersion to minimise power compression during operation; and an optimised T-pole magnet assembly to maximise the stability of cone movement for enhanced Bl symmetry, hence lower distortion.
Developed at Celestion's headquarters in Ipswich, England, this loudspeaker is designed using specialist in-house software deploying FEA (Finite Element Analysis) modelling techniques, enabling the Celestion engineering team rapidly to achieve genuine increases in performance, that translate into greater product longevity, and exceptionally low distortion.
This new high-performance cast aluminium loudspeaker is another example of Celestion's continuing commitment to delivering a wide range of high-quality solutions for sound reinforcement and professional audio applications.
The announcement follows a four-month call for entries of standout technical products and projects that have made a significant impact on modern sound and music. A panel of respected industry voters from pro audio publications, as well as members of professional music, technical and creative organizations, along with select NAMM members, carefully evaluated each entry before selecting the Celestion CF1025BMB as a finalist.
All finalists will be celebrated at The 2023 NAMM Show at the TEC Experience, a special, communal reception designed to gather the crossroads of the industry to applaud the achievements of the researchers and developers, product designers, marketers, and innovators behind the innovations. The event, which is open to all NAMM Show attendees and precedes the return of the TEC Awards in 2024, will be held on the campus of the Anaheim Convention Center on the evening of Thursday, April 13.
Vote for the Celestion CF1025BMB here.
About the TEC Awards
Presented annually by NAMM during The NAMM Show, The NAMM TEC Awards recognize the individuals, companies, and technical innovations behind the sound of recordings, live performances, films, television, video games, and other media in Technical and Creative Achievement Categories. The Les Paul Award is given at the event in tribute to musical artists and others whose work has exemplified the creative application of audio technology. Through its Hall of Fame, The TEC Awards also honors the pioneers of audio technology and the music industry's most accomplished producers and audio technicians. The NAMM Foundation's TECnology Hall of Fame celebrates innovations and groundbreaking technical achievements of the past. For more information, visit www.tecawards.org
About NAMM
The National Association of Music Merchants (NAMM) is a not-for-profit association with a mission to strengthen the $17 billion music products industry. NAMM is comprised of approximately 15,000 member companies and professional members located in 104 countries and regions. NAMM events and members fund The NAMM Foundation's efforts to promote the pleasures and benefits of music and advance active participation in music-making across the lifespan. For more information about NAMM, please visit www.namm.org or follow the organization on Facebook, Instagram and Twitter.
About Celestion
With worldwide headquarters in Ipswich, England, Celestion design, develop and manufacture premium guitar and bass loudspeakers, and high-quality professional audio drivers for sound reinforcement. These world-renowned speakers are used onstage and in clubs, theatres and other venues the world over. Contact Celestion at: info@celestion.com and visit us on Facebook at www.facebook.com/celestion.