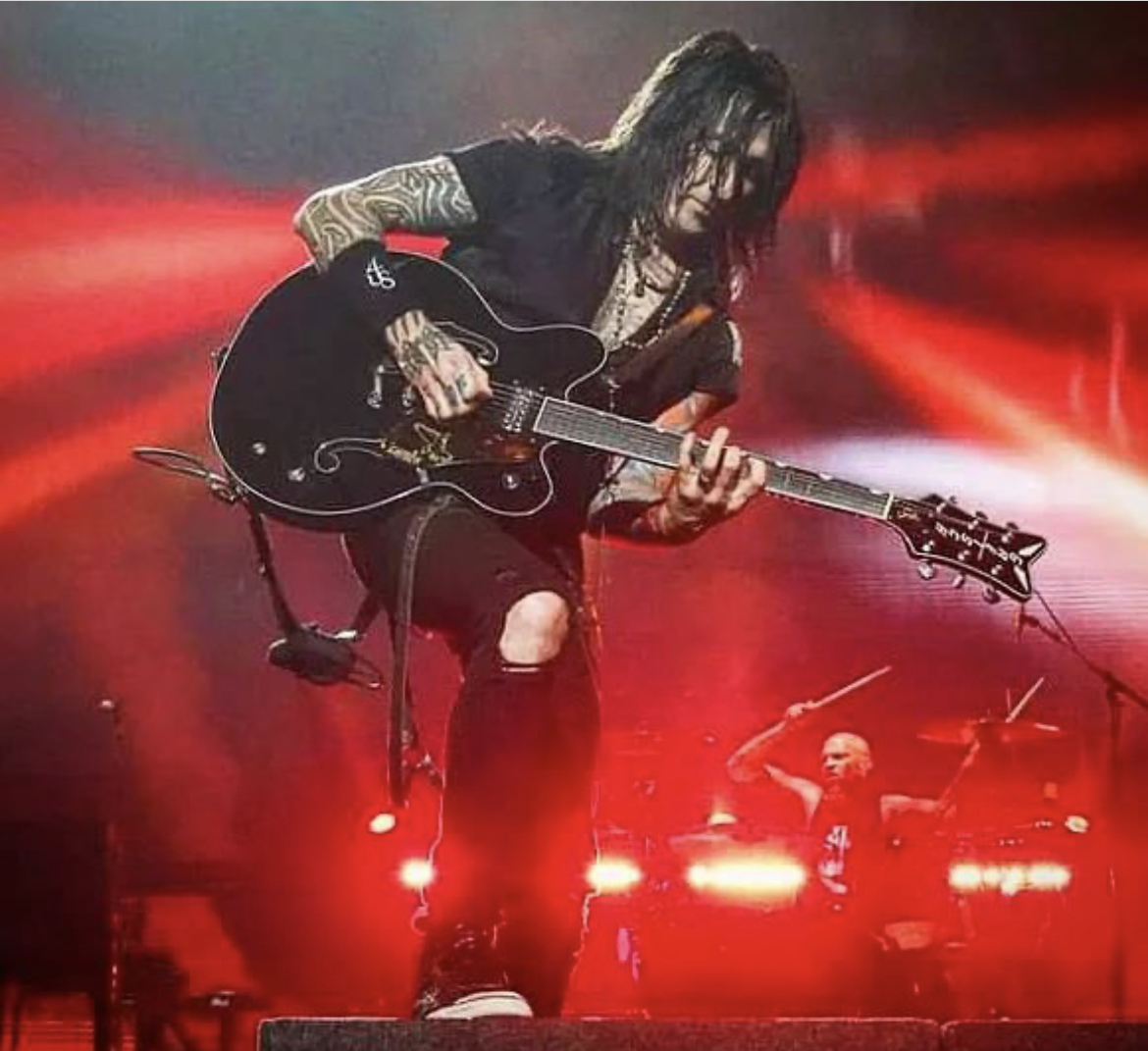 St. Louis, MO (February 6, 2023) — Asking the question "What type of guitar player is Richard Fortus?" is potentially dangerous, because trying to answer it just might cause one's word processor to run out of hyphens. Fortus is currently playing the dream gig of standing onstage next to Axl and Slash in Guns N' Roses, whom he joined in 2001. He has recorded, toured, or done both with marquee artists across literally every style of modern music, including Rihanna, Enrique Iglesias, Thin Lizzy, Fiona Apple, BT, and Crystal Method. He's been a full-on band member of The Psychedelic Furs and more recently supergroup The Dead Daisies. His film score contributions include Monster and The Fast and the Furious franchise. He joined Celestion for a far-ranging conversation about his genre-defying career, influences, musical values, gear, and how Celestion speakers — especially the Alnico Cream, G12H family, and Gold — have been his musical partner during his entire journey.
Even before his teens, Fortus' musical tastes were eclectic. "As young as 11 or 12, I was obsessed with players like Robert Fripp, Jeff Beck, Steve Howe, early Santana, and Peter Frampton," he recalls. "My first band, The Eyes, would play our childlike versions of songs by bands like Return To Forever, Mahavishnu Orchestra, and the Dregs. Then when I turned 14 or 15, I heard The Clash and everything changed after that. It all became less 'muso' and more about songwriting and energy. We started covering bands like The Police, U2, The Damned, and The Psychedelic Furs."
That makes it poetic that he would find himself in the Furs and co-writing songs with lead singer Richard Butler for what would become the project "Love Spit Love." Though Guns N' Roses' needs from a guitarist could not be more different, that could describe any two projects on which Fortus has ever played. "Producers who hire me often say, 'I just want you to do your thing,'" he explains. "So, I think carefully about what they think 'my thing' is, then try to deliver it. But really, it's simply that I just love all types of music. I think I don't get typecast because I pull from such a broad palette and genuinely love it all."
Whatever the genre, Celestion speakers are a cornerstone of the sound Fortus delivers. "In my live rig with Guns N' Roses I have two amps that the front-of-house engineer mixes," he says. "One is a little Magnatone Twilighter with an Alnico Cream. The other is a 100-watt Voodoo whose cabinet has two G12H and two Golds arranged diagonally from each other. The G12H gives me more of the tight low end I want to hear. The Gold provides more of the shimmer on top. The Cream just has the most magical midrange right out of the box."
Such results set Fortus on a path of Celestion-izing many of his prized vintage amps. "I also have a low-powered Fender Tweed Twin," he notes. "I put a pair of Alnico Creams in it temporarily while I had its stock speakers re-coned. I never put the stock ones back in. Those Creams turned a good amp into a great amp.
"I feel like Celestion is part of my voice," says Fortus at the end of the interview. "I have a real affinity for British amps, so much that I had 240-volt power installed in my studio so I can run them as they were meant to be run. Beyond the tubes and transformers, the biggest part of that sound is Celestion."
Read our full-length interview with Richard Fortus on the Celestion blog here, and learn more about Celestion's guitar loudspeakers here.
About Celestion and Celestion Guitar Speakers
An important element to essential British guitar tone since the birth of Rock & Roll, Celestion Guitar Speakers are famous for their lively and vocal midrange character with plenty of sparkle and chime. With worldwide headquarters in Ipswich, England, Celestion design, develop and manufacture premium guitar and bass loudspeakers, and high-quality professional audio drivers for sound reinforcement. These world-renowned speakers are used onstage and in clubs, theatres, and other venues the world over. Since 2017, Celestion Digital has offered the tones of the company's legendary guitar and bass speakers as downloadable impulse responses that work with most modern guitar effects processors and amp-top load boxes. Contact Celestion at: info@celestion.com and visit us on Facebook at www.facebook.com/celestion.