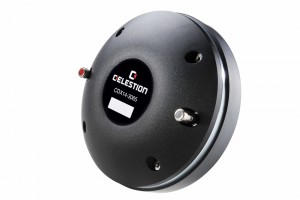 With a 3" copper clad aluminium voice coil driving a titanium diaphragm, the device delivers 75Wrms power handling and 106.5 dB sensitivity. The CDX14-3065 additionally incorporates a number of advanced technology features to minimise distortion and enhance overall performance.
Principal among these is Maximised Modal Suppression (MMS), consisting of a major new design of phase plug and diaphragm, intended to greatly reduce levels of high frequency distortion.
The phase plug was developed at Celestion's UK headquarters from a patented design by Head of Group Research, Mark Dodd. It completely re-defines the criteria by which the physical dimensions of a compression driver's phase plug are calculated, superseding the conventional method which is now more than 50 years old.
Working together with the new phase plug is a deep-drawn titanium diaphragm: its shape is deeper than those of conventional compression driver diaphragms, which increases stiffness. The rolled polyimide diaphragm surround improves stiffness control; together these features contribute to a genuine reduction in distortion.
The newly designed phase plug and diaphragm also deliver a lower compression ratio, reducing air non-linearity and allowing for higher maximum SPL. They provide a curved coherent wavefront at the driver's exit, thereby optimising the unit for horn-loading.
Celestion's next generation of Sound Castle diaphragm clamping assembly has been created to actively reduce stress on the diaphragm during operation; yet another feature contributing to lower distortion, as well as ensuring even greater consistency of performance.
Developed at Celestion's headquarters in Ipswich, England, CDX14-3065 incorporates a unique and powerful industrial design, created in partnership with Allen Design Associates. More than a simple cosmetic makeover, this bold new look is an essential part of the performance of the compression driver itself.