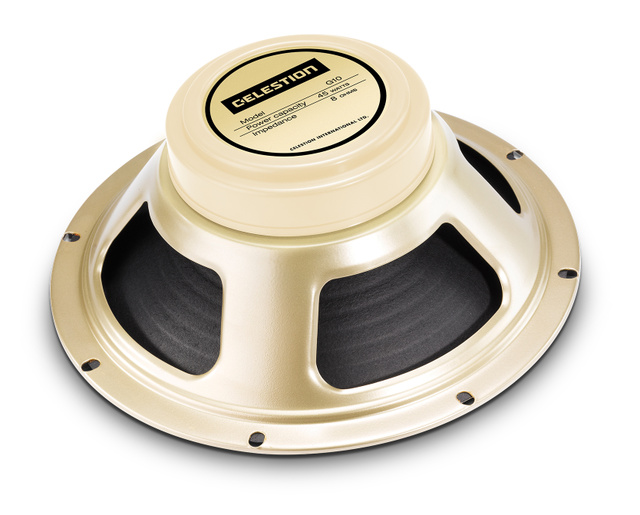 Anaheim, CA (January 24, 2019) —At this year's NAMM show, Celestion, the world's premier designer and manufacturer of guitar loudspeakers and well-known as the voice of rock and roll behind many of the world's most memorable guitar performances, announces the introduction of the G10 Creamback, a new guitar speaker which delivers rich, classic Creamback tone in a 10" format.
With a ceramic magnet and 1.75-inch voice coil, the G10 Creamback offers 45-watts of power handling. The G10 Creamback is built using the same production methods and materials developed for the 12" Creambacks; and just like its bigger brothers, the G10 Creamback is hand-built in the UK. Punchy and dynamic, exactly as you'd expect from a 10; tone is warm, expressive, detailed and well-balanced.
"Our range of 12" Creamback guitar speakers have been immensely popular and successful, since its introduction. Our customers have since been telling us that we need a 10-inch version – so here it is," says Celestion Head of Marketing, Ken Weller.  "The new G10 Creamback is all the things that guitar players love about the Creamback, wrapped up in a 10-inch package."
The new G10 Creamback features an eight hole chassis as well as the signature cream coloured can, which should leave no-one in any doubt of this outstanding speaker's family history.
For more information, see www.celestion.com and see Celestion at The Winter NAMM Show 2019 in Anaheim CA at Booth #7602
About Celestion and Celestion Guitar Speakers
An important element to essential British guitar tone since the birth of Rock & Roll, Celestion Guitar Speakers are famous for their lively and vocal midrange character with plenty of sparkle and chime. With worldwide headquarters in Ipswich, England, Celestion design, develop and manufacture premium guitar and bass loudspeakers, and high-quality professional audio drivers for sound reinforcement. These world-renowned speakers are used onstage and in clubs, theatres and other venues the world over. Contact Celestion at: info@celestion.com and visit us on Facebook at www.facebook.com/celestion.