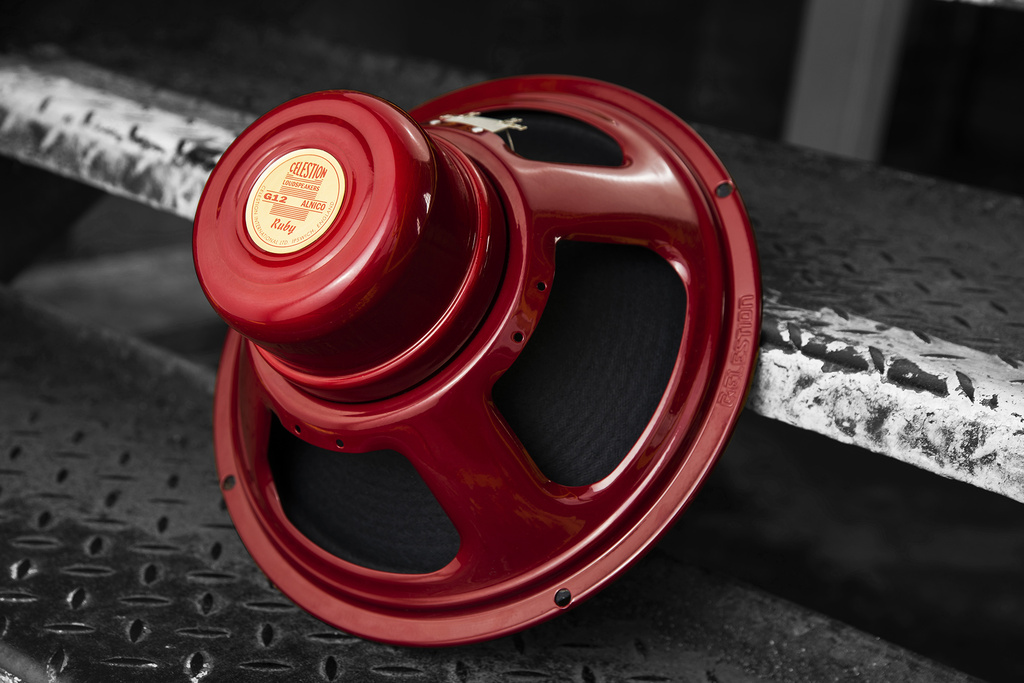 Anaheim, CA (January 25, 2019) —At this year's NAMM show, Celestion, the company responsible for the first-ever dedicated guitar speaker and well-known as the voice of rock and roll behind many of the world's most memorable guitar performances, is pleased to unveil the new Celestion Ruby, a 12-inch diameter alnico magnet guitar speaker, with a 35-watt power rating.
Built on more than 90 years of experience, know-how and passion for great sound, the Ruby has been purpose-built to create vintage tones which are authentically Celestion. You'll hear that instantly familiar Celestion alnico vibe:  a gloriously laid back attack, together with a smooth, sophisticated midrange and mellow highs; all of which blends together beautifully to provide a richly musical vintage warmth.
"The Ruby brings an instantly familiar Celestion alnico vibe to your playing," says Celestion head of engineering, Paul Cork. "And the 35-watt rating means that it's an ideal drop-in for medium-power output amp combos"
Featuring an 8-hole steel frame, the Celestion Ruby delivers an output sensitivity of 100dB and is available in 8 or 16 ohms. The classic alnico speaker shape and lush, deep red colour ensures Ruby looks the part, complementing the authentic Celestion tonality, and ensuring that no one could mistake this remarkable guitar speaker's family history.
For more information, see www.celestion.com and see Celestion at The Winter NAMM Show 2019 in Anaheim CA at Booth #7062
About Celestion and Celestion Guitar Speakers
An important element to essential British guitar tone since the birth of Rock & Roll, Celestion Guitar Speakers are famous for their lively and vocal midrange character with plenty of sparkle and chime. With worldwide headquarters in Ipswich, England, Celestion design, develop and manufacture premium guitar and bass loudspeakers, and high-quality professional audio drivers for sound reinforcement. These world-renowned speakers are used onstage and in clubs, theatres and other venues the world over. Contact Celestion at: info@celestion.com and visit us on Facebook at www.facebook.com/celestion.