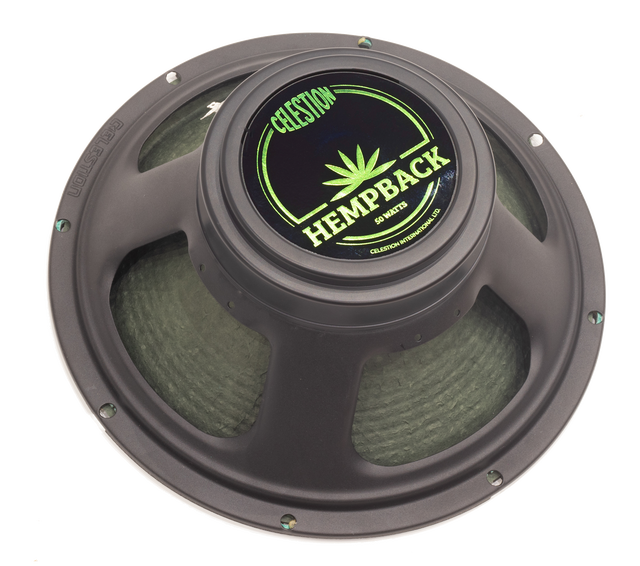 Ipswich, UK (January 18, 2021) —At this year's Believe in Music virtual show, Celestion, the world's premier designer and manufacturer of guitar loudspeakers and well-known as the voice of rock and roll behind many of the world's most memorable guitar performances, announces the introduction of the G12M-50 Hempback, a new guitar speaker which takes Celestion tone in an exciting new direction.
The G12M-50 Hempback is the first ever hemp cone guitar speaker built by Celestion. It features a cone specifically chosen for its tonal character combined with a medium-weight (35oz) ceramic magnet, Well defined and powerful the speaker delivers a thump in the low end, a finely balanced midrange (with just a little Celestion crunch thrown in) and smooth, singing highs. It all adds up to a speaker that's perfect for deploying with brighter sounding amps, where a more laid- back feel is required. Load up a Hempback for a smooth and "smoky" sound that's musical and responsive, and let the hemp tone shine through.
Specifications
Nominal diameter        305mm/12in
Power handling           50W
Nominal impedance    8Ω, 16Ω
Sensitivity                    99dB
Chassis type               Pressed Steel
Voice coil diameter      44mm/1.75in
Voice coil material       Round copper
Magnet type                Ceramic
Magnet weight             0.9kg/35oz
Frequency range         75Hz-5000Hz
Resonance freq.          75Hz
About Celestion and Celestion Guitar Speakers
An important element to essential British guitar tone since the birth of Rock & Roll, Celestion Guitar Speakers are famous for their lively and vocal midrange character with plenty of sparkle and chime. With worldwide headquarters in Ipswich, England, Celestion design, develop and manufacture premium guitar and bass loudspeakers, and high-quality professional audio drivers for sound reinforcement. These world-renowned speakers are used onstage and in clubs, theatres and other venues the world over. Contact Celestion at: info@celestion.com and visit us on Facebook at www.facebook.com/celestion.