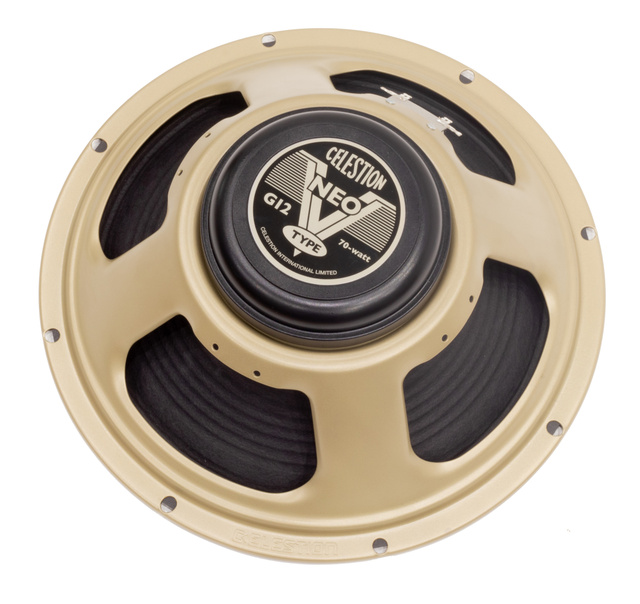 Ipswich, UK (January 18, 2021) —Celestion, the premier manufacturer of guitar and bass loudspeakers whose classic guitar tones have made the company famous as the voice of rock and roll, is pleased to introduce the new Neo V Type guitar speaker.  Featuring a unique neodymium magnet assembly, the new Neo V-Type delivers the familiar and addictive modern vintage sound of the company's well-established V-Type speaker, but with a weight reduction of almost 50%.
The Neo V-Type has been designed to be a cost-effective, lightweight neodymium magnet guitar speaker option both for manufacturers and for after-market upgrades, with no compromise on tone.
This sweet sounding speaker has a superbly balanced sonic signature that imparts a vintage musicality to your tone. Clean sounds have just the right amount of upper-mid chime and HF sparkle to add clarity and definition. Crank it up for a sizzling overdrive and some raw rhythmic grind, but expect a little extra definition and note separation for your searing, single note lead lines thanks to some neodymium magnet magic.
Specifications:
Nominal diameter        305mm/12in
Power handling           70W
Nominal impedance    8Ω, 16Ω
Sensitivity                    98dB
Chassis type               Pressed Steel
Voice coil diameter      44mm/1.75in
Voice coil material       Round copper
Magnet type                Neodymium
Frequency range         75Hz-5000Hz
Resonance Frequency  75Hz
About Celestion and Celestion Guitar Speakers
An important element to essential British guitar tone since the birth of Rock & Roll, Celestion Guitar Speakers are famous for their lively and vocal midrange character with plenty of sparkle and chime. With worldwide headquarters in Ipswich, England, Celestion design, develop and manufacture premium guitar and bass loudspeakers, and high-quality professional audio drivers for sound reinforcement. These world-renowned speakers are used onstage and in clubs, theatres and other venues the world over. Contact Celestion at: info@celestion.com and visit us on Facebook at www.facebook.com/celestion.