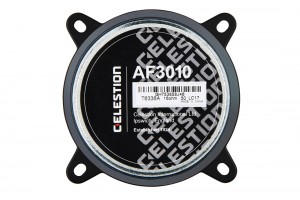 Anaheim,  CA (January 25, 2018) —At the 2018 NAMM Show, Celestion is debuting the new value priced range of weather-resistant, compact, low-profile drivers, the AF range, designed for use in compact line arrays, column speakers and  compact single-speaker applications. The first models in the series consist of two lightweight full-range models, the three-inch (75mm) AF3010 and the four-inch (100mm) AF4010, the new driver range complements the company's existing AN series of line array drivers, a popular choice with compact array manufacturers since its 2012 launch.
"Our AN series drivers have been so well received by our customers that we wanted to offer the AF Series as an alternative, designed to reach a wider marketplace," explains Ken Weller, Celestion Marketing Director.
The new lightweight (around 600g/20oz) AF series uses  exceptionally cost-efficient materials, meaning that together with the existing AN drivers, customers now have a wider range of driver sizes and construction types to suit all design budgets. The AN series featured neodymium magnets, aluminium cones and an ABS chassis; the AF3010 and AF4010 feature ferrite magnets and coated (waterproofed) paper cones, in a pressed-steel chassis. As with the AN series, the new drivers are designed to be weather-resistant for use in arrays situated outdoors.
The three-inch AF3010 is a 35W driver with a sensitivity (@1W/1m) of 87dB, and with a frequency range of 120Hz to 19kHz. The larger AF4010 also delivers 35W, with a slightly higher sensitivity of 88dB and frequency range of 100Hz to 16kHz. Like the AN series, the AF range was developed using FEA (finite element analysis) techniques to optimise its acoustic and electromagnetic performance, and, as a result, delivers wider dispersion to higher frequencies than many drivers of similar specification.
The AF3010 and AF4010 are shipping now. For more information, see www.celestion.com, or visit the company at stand #7602 during Winter NAMM.
About Celestion and Celestion Guitar Speakers
With worldwide headquarters in Ipswich, England, Celestion design, develop and manufacture premium guitar and bass loudspeakers, and high-quality professional audio drivers for sound reinforcement. These world-renowned speakers are used onstage and in clubs, theatres and other venues the world over. Contact Celestion at: info@celestion.com and visit us on Facebook at www.facebook.com/celestion.