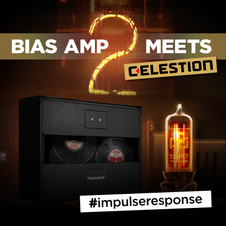 Ipswich, UK ( February 2018) — Celestion is pleased to announce that Positive Grid, the leading developer of digital audio software and hardware, has bundled a Celestion Impulse Response library of the company's most legendary guitar speakers with the release its new BIAS Amp 2 Elite Virtual Amp Designer amp simulation software. Celestion Impulse Responses (IRs), the authentic classic guitar tones available in digitally downloadable format, are available for audition and download at Celestion Plus.
BIAS Amp 2 is the latest version of Positive Grid's amp simulation software which has set a new benchmark for giving guitarists the ability to control tone more easily than ever before.  It uses an intuitive, graphical interface which allows users to design and build a virtual amp from a range of components, including pre-amps, power amps, tubes, transformers, tone stacks and filters.  BIAS Amp 2 takes this concept further and includes many additions and updates to the original version such as Amp Match and Dynamic Tone Control. It also includes a host of features that help users get the perfect tone – including nine built-in reverbs, all customisable with filtering and saturation options, as well as new tone packs for Blues and Bass, which join the existing tone packs for Glassy (clean and low-gain), Insane (metal) and Crunch (mid to high gain).
The BIAS Amp 2 Elite includes the Celestion Classic Pack of downloadable IRs consisting of  legendary Celestion speakers including: the Vintage 30, Celestion Blue, G12H Anniversary, G12-65 and the G12M Greenback. With the BIAS Amp 2 Elite priced at just $100 more than the Professional version, the included Celestion bundle with the Elite version represents an excellent value and easy way to own five of Celestion's most iconic IRs. BIAS Amp 2 customers will soon be able to purchase additional packs of Celestion IRS, including the Modern Vintage Pack – containing the G12M-65 Creamback, G12H-75 Creamback, Neo Creamback, G12H-150 Redback and the A-Type   Impulse Responses. Alternatively, owners can also add to their IR library by purchasing individual Celestion IRs at Celestion Plus and uploading them to their BIAS Amp 2 Elite software.
"Celestion are very pleased to be collaborating with Positive Grid, as there is such a natural fit between the two companies. Both of us are committed to giving guitarists authentic sounding analogue-inspired tone in a digital format, with a high level of control and flexibility as well as ease of use," says Nigel Wood, Celestion Managing Director. "We are excited to see the launch of BIAS Amp 2, which offers a very rich and intuitive user interface, and easily interacts with the Celestion IR library."
BIAS Amp 2 is available in 3 different versions: Standard ($99), Professional ($199) and Elite ($299.) Upgrade options are also available for existing users. To learn more about the Positive Grid's new amp designer, visit the BIAS Amp 2 product page on their website and watch the product preview video here.
About Positive Grid
Positive Grid is a leading developer of digital audio software and hardware with a focus on creating solid tools for working musicians, with simple interface and cutting edge technology. The company's passion for excellence and commitment to the development of new technologies has attracted a number of the industry's best engineers and designers. Along with Positive Grid's  "make it great" mentality, the company is committed to providing the best possible experience and to exceeding expectations for their customers. www.positivegrid.com
About Celestion Impulse Responses
Celestion IR digital downloads are available in uncompressed, industry standard .WAV format at 44.1 kHz, 48 kHz, 88.2 kHz and 96 kHz sample rates at 24 bit depth, in lengths of 200 and 500 milliseconds Once the files are downloaded and unzipped, users simply load the IRs into a convolution plug-in in their DAW or into other processing hardware. These formats will work in all known hardware capable of loading IRs, and for the most popular hardware Celestion have already grouped together the correct formats. Guitar processor manufacturers supported include Atomic Amps, Fractal Audio Systems, HeadRush, Kemper, Line 6, Logidy, Positive Grid, Two Notes and Yamaha. The Celestion IR files may be downloaded in the sample rate and length appropriate for the hardware being used or as a complete package of all rates and lengths. Certain third party hardware requires the files to be converted into a proprietary format before use. www.celestionplus.com.
About Celestion and Celestion Guitar Speakers
An important element to essential British guitar tone since the birth of Rock & Roll, Celestion Guitar Speakers are famous for their lively and vocal midrange character with plenty of sparkle and chime. With worldwide headquarters in Ipswich, England, Celestion design, develop and manufacture premium guitar and bass loudspeakers, and high-quality professional audio drivers for sound reinforcement. These world-renowned speakers are used onstage and in clubs, theatres and other venues the world over. Contact Celestion at: info@celestion.com and visit us on Facebook at www.facebook.com/celestion.