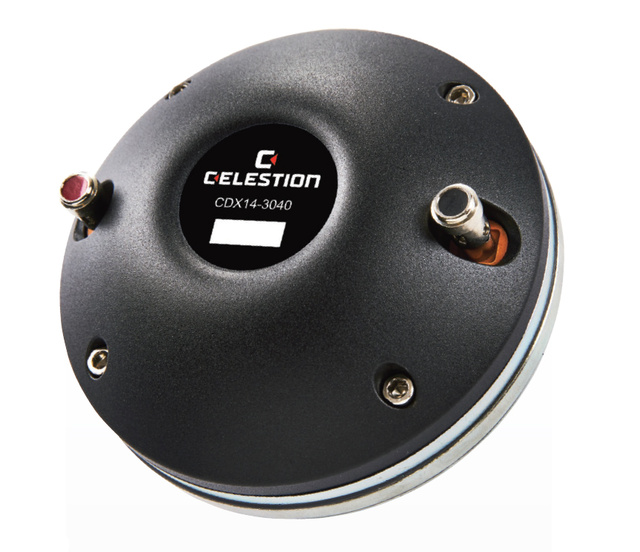 Frankfurt, Germany (April 03, 2018) — At this year's Pro Light + Sound (Hall 3.1, Stand B40), Celestion, one of the world's leading suppliers of professional loudspeakers and compression drivers for sound reinforcement applications is announcing the launch of the CDX14-3040 neodymium magnet compression driver. This brand new model utilizes a single-piece pure titanium diaphragm and surround—together with a compact lightweight magnet assembly—to deliver a superior high frequency performance.
The CDX14-3040 is a 1.4-inch exit, 3-inch voice coil neodymium magnet compression driver. It features a stiff and light edgewound coil copper clad aluminium voice coil and delivers 75Wrms (AES standard) power handling as well as a sensitivity of 106.5 dB from 500 Hz to 20 kHz. Celestion recommends a minimum crossover frequency of 1 kHz (at 12 dB/octave).
The CDX14-3040 is the third large format compression driver developed by Celestion to incorporate a 3-inch single-piece titanium diaphragm and surround, following the introduction of two ferrite magnet drivers: the 1.4-inch exit CDX14-3030 and 2-inch exit CDX20-3020.
Thanks to the lightweight neodymium magnet assembly the CDX14-3040 offers a size and weight advantage over its ferrite magnet counterparts, weighing in at a modest 1.4kg/3.1lb at a diameter of 135mm/5.3in.
"Celestion's engineers have applied advanced finite element analysis techniques, together with our unique, in-house loudspeaker modelling software, to create a device that further improves upon the performance of a design that has long been an industry standard," says Nigel Wood, Celestion Managing Director. "Our new CDX14-3040 reproduces the very high frequency performance of many popular large format titanium compression drivers while also offering a number of performance advantages such as lower distortion as well as reduced size and weight."
The design of all Celestion CDX compression drivers makes extensive use of the company's industry-leading experience in Finite Element Analysis (FEA) techniques to optimize the mechanical, acoustical and electromagnetic design. This enables the development of products that offer outstanding performance whatever the HF application.
About Celestion
With worldwide headquarters in Ipswich, England, Celestion design, develop and manufacture high-quality professional audio loudspeakers and compression drivers for sound reinforcement; premium guitar and bass guitar loudspeakers. These world-renowned speakers are used onstage and in clubs, theatres and other venues the world over. Contact Celestion at: info@celestion.com and visit us on Facebook at www.facebook.com/celestion.