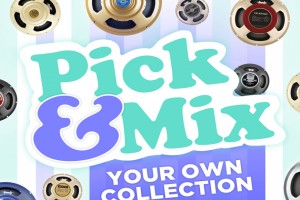 Ipswich, UK (March 13,  2018) —   Celestion is very pleased to announce a new way for customers to acquire and build upon their library of Impulse Responses, the company's authentic digitally downloadable speaker tones,  The Pick & Mix option, which is available in combinations of either 3 or 5 cabinets from the company's full range of IRs, gives customers complete flexibility in the way they choose to build their personal IR library at a significant savings compared to purchasing individual IRs.  The entire family of Celestion Impulse Responses, which currently includes 15 sets of classic Celestion loudspeaker IRs introduced during the past year, are available for audition and download at newly redesigned Celestion Plus.
With the Pick & Mix offering, customers can choose to include IRs from the same speaker or different speakers, and in any combination of cabinet types (1×12, 2×12, 4×12, closed or open back.)  This option makes it simple to build a Celestion Impulse Response collection that includes only the speakers and cabinet types that match particular interests and style of playing. For example, heavy metal players might favor a 4 x 12 cabinet, the choice could be 4 x 12 closed back cabinets for the Vintage 30, G12M Greenback, G12-65, G12H-150 Redback or the G12-50GL Lynchback. And for "purer" speaker tones, perhaps more appropriate for melodic lead guitar, a player might want to focus on 1×12 or 2×12 cabinets, together with speakers that have been tried and tested on countless solos throughout the years, such as the Classic Lead 80 1×12, , Neo Creamback 1×12, G12H Anniversary 1×12 and 2×12.
The Pick & Mix collection options of 5 or 3 cabinets offer significant savings over the cost of buying cabinets alone. The 5 Cab Custom Collection allows customers to pick any combinations of five cabinets for almost 50% off the price of buying the cabinets separately. And with the 3 Cab Custom Collection, customers can pick any three cabinets for more than 40% off the price of buying 3 cabinets separately. So it's never been more affordable to quickly build an entire IR library of favourite Celestion speakers.
"The Celestion collection of Impulse Responses have received overwhelmingly positive acclaim from customers around the world," says Nigel Wood, Celestion CEO. "We want to be able to offer our customers more creative flexibility and value when purchasing our IRs, and so we're delighted to introduce the Pick &Mix options."
The Pick & Mix option is also a valuable audition tool for customers planning to buy physical Celestion speakers.  As choosing from the company's extensive range can be challenging, as there's no easy way to get a true like-for-like comparison between several speakers at the same time, the Pick & Mix option allows customers to create a shortlist of their 3 or 5 speakers and try them all with their own guitars and amps before they buy.
The ever-growing family of authentic Celestion Impulse Responses which are available for purchase on Celestion Plus. include the G12-50GL Lynchback, Classic Lead 80, Classic Gold, A-Type , Neo Creamback,  G12-H150 Redback,  G12M Greenback, G12M-65 Creamback, G12M-75 Creamback, G12H Anniversary, G12-65,  Cream, G12-35XC, Celestion Blue and Vintage 30 models mounted in 1×12 and 2×12 open and closed back and 4×12 cabinets.
Check out the new Pick & Mix buying options at Celestion Plus.
About Celestion Impulse Responses
With their rich history in creating classic guitar tones known the world over, Celestion insists upon the utmost standards for their Impulse Responses, which are created using state-of-the art gear, award-winning engineers and world-class recording facilities. As a result, Celestion Impulse Responses are the definitive digital representations of the company's renowned classic guitar speaker tones. Customers can be assured of the quality and authenticity of their Celestion Impulse Responses, as each on is Authestion Marked, their own proprietary audio protection technology for their digitally downloadable catalog of IRs.
Celestion IR digital downloads are available in uncompressed, industry standard .WAV format at 44.1 kHz, 48 kHz, 88.2 kHz and 96 kHz sample rates at 24 bit depth, in lengths of 200 and 500 milliseconds Once the files are downloaded and unzipped, users simply load the IRs into a convolution plug-in in their DAW or into other processing hardware. These formats will work in all known hardware capable of loading IRs, and for the most popular hardware Celestion have already grouped together the correct formats. Guitar processor manufacturers supported include Atomic Amps, Fractal Audio Systems, Kemper, Line 6, Logidy, Positive Grid, Two Notes, Headrush and Yamaha. The Celestion IR files may be downloaded in the sample rate and length appropriate for the hardware being used or as a complete package of all rates and lengths. Certain third party hardware requires the files to be converted into a proprietary format before use. Celestion Plus.
About Celestion and Celestion Guitar Speakers
An important element to essential British guitar tone since the birth of Rock & Roll, Celestion Guitar Speakers are famous for their lively and vocal midrange character with plenty of sparkle and chime. With worldwide headquarters in Ipswich, England, Celestion design, develop and manufacture premium guitar and bass loudspeakers, and high-quality professional audio drivers for sound reinforcement. These world-renowned speakers are used onstage and in clubs, theatres and other venues the world over. Contact Celestion at: info@Celestion.com and visit us on Facebook at www.Facebook.com/Celestion.
www.celestion.com