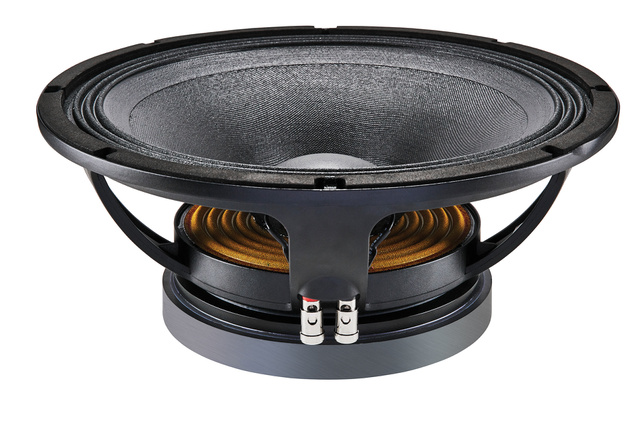 Frankfurt, Germany (April 2, 2019) — At this year's Pro Light + Sound (Hall 8.0, Stand G81), Celestion, one of the world's premier suppliers of professional loudspeakers and compression drivers for sound reinforcement applications, is pleased to announce the OEM availability of its two newest additions to its CF range of high-quality cast-aluminium, ferrite-magnet drivers for demanding tour and installed sound applications: the 12-inch, low-frequency CF1230F, and the 15-inch CF1540HD, designed for use in subwoofers.
The 500Wrms, 12-inch CF1230F has a nominal sensitivity of 98dB (1W, 1m). With a three-inch, copper-clad aluminium voice coil it is particularly suited to bass applications in two and three–way systems. The 1200Wrms, CF1540HD has a 97dB sensitivity (1W, 1m), and a four-inch inside/outside voice coil, wound on both sides of the former for better heat dissipation preventing sensitivity loss through thermal compression. Purpose-built for subwoofer applications, the CF1540HD features a phase-matched double suspension system for a more balanced and symmetrical performance throughout the entire excursion of the cone for significant distortion reduction.
Both drivers incorporate twin demodulation rings, employed to reduce harmonic and intermodulation distortion. Additionally, each one features Celestion's Balanced Airflow Venting technology, rapidly taking heat away from the magnet assembly, cooling the motor system to counteract the effects of thermal compression more effectively.
The CF drivers are also built with weather-resistant cones, enabling them to be used in outdoor sound reinforcement systems. Additionally, the cone of the CF1230F incorporates a waterproof coating, so that this driver can be used in more challenging environments.
"The availability of the CF1230F and the CF1540HD makes the CF range very comprehensive, with 6, 8, 10, 12, 15 and 18-inch drivers now available," says Nigel Wood, Celestion Managing Director. "Whether you're looking for high-quality midrange drivers for a line array installation, a powerful bass reflex subwoofer, or all points in between, there's a CF driver to suit your application requirements."
See Celestion at Pro Light + Sound, 2.-5. April 2019 in Hall 8.0, Stand G81.
About Celestion
With worldwide headquarters in Ipswich, England, Celestion design, develop and manufacture high-quality professional audio loudspeakers and compression drivers for sound reinforcement; premium guitar and bass guitar loudspeakers. These world-renowned speakers are used onstage and in clubs, theatres and other venues the world over. Contact Celestion at: info@celestion.com and visit us on Facebook at www.facebook.com/celestion.