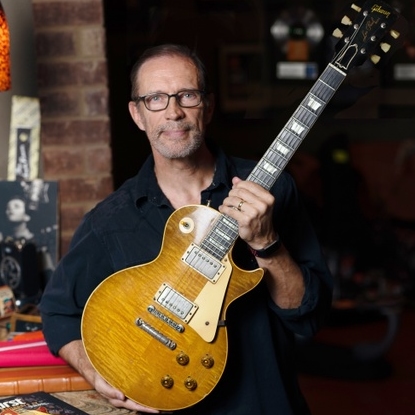 Nashville, TN (March 30, 2021) — Songwriter and guitarist Gordon Kennedy won his first Grammy in 1996 for Song of the Year, co-writing the international hit song "Change the World" recorded by Eric Clapton. His second came in 2007 for Best Pop Instrumental Album for co-producing, composing and performing on Peter Frampton's Fingerprints album. His songs have been recorded by an impressive list of artists including Frampton, Garth Brooks, Ricky Skaggs, Bonnie Raitt, Alison Kraus, Stevie Nicks, Faith Hill, Carrie Underwood and many others. And Kennedy's compositions have been part of the film soundtracks hit films such as Tin Cup, For Love of the Game, Where the Heart Is, Almost Famous, Summer Catch, Someone Like You, The Banger Sisters, Phenomenon and Disney's The Fox and the Hound 2. Despite his estimable fame, Gordon always makes time for benefit performances for audiences of any size. He recently spoke to Celestion about his musical values, his musical family legacy and the role of Celestion speakers in crafting his signature tones.
"I think the first amp I had that used Celestion speakers was an old '68 basket-weave Marshall 4×12 with 20-watt speakers, if you can believe it," says Kennedy. "But the first time I paid attention to Celestion as a choice, rather than as just what the amp manufacturer used, was when I bought a 1960 Fender Tweed Deluxe amp from a vintage show in Philadelphia. The speaker in it was trashed, of course. Peter Frampton said to me, 'You should put a Vintage 30 in there.' I did and I loved it. I used that Tweed Deluxe with that speaker for years and years. On the Fingerprints album, Peter used my tweed Deluxe with the Vintage 30 for the one song "Float." He liked it so much, that he went and found his own vintage tweed Deluxe. I think he has 3 now! I do too."
Kennedy's most recent vintage amp acquisition is a 1962 piggyback Fender Bassman rig in need of some replacement drivers, for which Kennedy chose the Celestion Ruby. (Hear him play it here at Two Celestion Rubies and a Fender Bassman.)
"This amp is dear to me because I got it from the great Nashville session player Chip Young, who played on "Jolene" by Dolly Parton. Once again, the original drivers were tired," he adds. "I didn't want to change its personality radically, so I called John Paice at Celestion and asked what he recommended. He was keen on the Ruby, which is a 35-watt Alnico speaker. I put in a pair of those and oh my gosh, it's a thing of beauty! It makes my guitars do everything I want them to. Whether it's a vintage Telecaster or a Les Paul or an ES-335, it just makes them sound like more what they are. I'm hearing the guitar sounds I grew up on. So, mission accomplished: It didn't change the amp's overall sound, but all the issues were gone, and tonally it just blew my mind."
And when asked about Celestion's reputation as a rock guitar speaker, Kennedy praises the versatility of the Ruby:
"Let me tell you, these Ruby speakers in the old Bassman rig I mentioned — I can do anything with this amp. I can cover Beatles, or Tom Petty in a tribute band I play in called the Petty Junkies, or plug in my '61 Telecaster and get these warm, Mark Knopfler-esque tones, which I was doing the other day. For myself, I don't have much need for high-gain, high-saturation stuff," he adds. "I like to stage the amp so that it's clean when I back off on my guitar volume knob, then just a little crunchy when I turn it up. Let me emphasize the Celestion part of the recipe. Without these Rubies, this amp would be a conversation piece for telling Chip Young stories. With them, it sounds glorious on just about anything."
Read the full interview with Gordon Kennedy on the Celestion Speakerworld blog here and explore the complete range of Celestion speakers available to upgrade your tone here.
About Celestion and Celestion Guitar Speakers
An important element to essential British guitar tone since the birth of Rock & Roll, Celestion Guitar Speakers are famous for their lively and vocal midrange character with plenty of sparkle and chime. With worldwide headquarters in Ipswich, England, Celestion design, develop and manufacture premium guitar and bass loudspeakers, and high-quality professional audio drivers for sound reinforcement. These world-renowned speakers are used onstage and in clubs, theatres and other venues the world over. Contact Celestion at: info@celestion.com and visit us on Facebook at www.facebook.com/celestion.