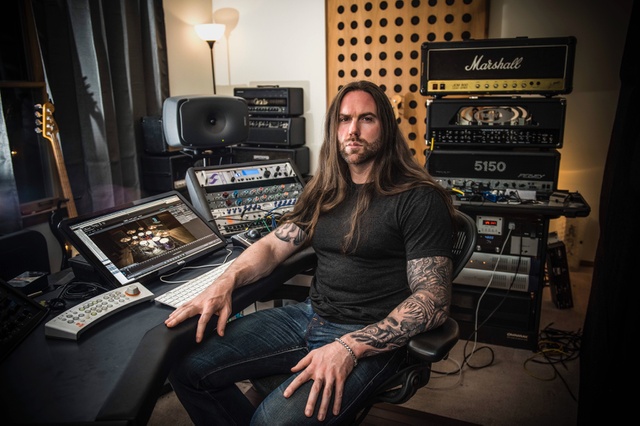 Nashville, TN (June 02, 2021) — Guitarist and Rock/Metal Producer Mark Lewis has tracked, mixed, produced, and/or mastered records for a variety of rock and metal's heaviest bands, including Trivium, Bury Your Dead, Whitechapel, Chimaira, Battlecross, Cannibal Corpse, Megadeth, The Black Dahlia Murder, Carnifex, Havok, and many more. He recently sat down with Celestion to discuss his career, his tone-crafting techniques, and how Celestion speakers have been there through all of it.
"I grew up a guitar player, and went to college for music performance. I eventually went to Full Sail in Orlando, and wound up meeting Jason Suecof, who was just an up-and-coming producer at the time. He had just produced Trivium's Ascendancy, which would turn out to be a gigantic record. When I got out of school was right about when he was starting to get in-demand and busy. He needed help in the studio, and the stars kind of aligned. The first thing Jason and I did together was the Roadrunner All Stars in 2005. We had done Bury Your Dead's Beauty and the Breakdown and a couple of records for the Victory and Metal Blade labels." In 2006, Lewis engineered Trivium's album, The Crusade."
Lewis also credits Suecof with pushing him to further his career. "Sometime at the end of 2007, Jason told me, 'I'm not going to hire you as an engineer anymore. You're going to pay me rent, work out of this studio, and I'm going to build another one.' I guess he thought I was ready to leave the nest. I was terrified, but it turned out he was right."
In terms of tone, for many years, Lewis explains his history with Celestion speakers.
"For many years I used the Vintage 30, which I might call Celestion's flagship. I eventually went down the rabbit hole of different models and revisions. We took in a big shipment of Celestion in July of 2019 when I was working on the Havok record, V. We took a clean D.I. in and planned on re-amping. We had a great tone going on — an Engl cabinet with a Peavey 6534 tube head. I was trying that Engl because it had a sound halfway between a Mesa and a Marshall, and most of my clients want one or the other," Lewis explains. "Normally our go-to would've been the Vintage 30, but we took literally a day to go through all the speakers and try them in the Engl. We had Lynchbacks, we had G12-H series, we had Redbacks, we had V-Type, we had Creamback 65 and Creamback 75, and I'm sure I'm leaving stuff out. The band unanimously decided the Creamback 65 was their favorite. Things quickly went from being — I wouldn't say a stock Vintage 30 tone, but a familiar sound — to a real standout."
And recently, Lewis describes a recent vintage acquisition that he revived with Celestion speakers.
"I just scored an amazing deal on a '74 Marshall model 1960. It had a mixture of Greenbacks and some other original Celestion drivers. One had been re-coned by someone who did a terrible job. I replaced them all with a combination of Vintage 30s and G12s, and now this is my favorite cabinet, hands down."
Read the full interview with Mark Lewis on the Celestion Speakerworld blog here and explore the complete range of Celestion speakers available to upgrade your tone here.
About Celestion and Celestion Guitar Speakers
An important element to essential British guitar tone since the birth of Rock & Roll, Celestion Guitar Speakers are famous for their lively and vocal midrange character with plenty of sparkle and chime. With worldwide headquarters in Ipswich, England, Celestion design, develop and manufacture premium guitar and bass loudspeakers, and high-quality professional audio drivers for sound reinforcement. These world-renowned speakers are used onstage and in clubs, theatres and other venues the world over. Contact Celestion at: info@celestion.com and visit us on Facebook at www.facebook.com/celestion.