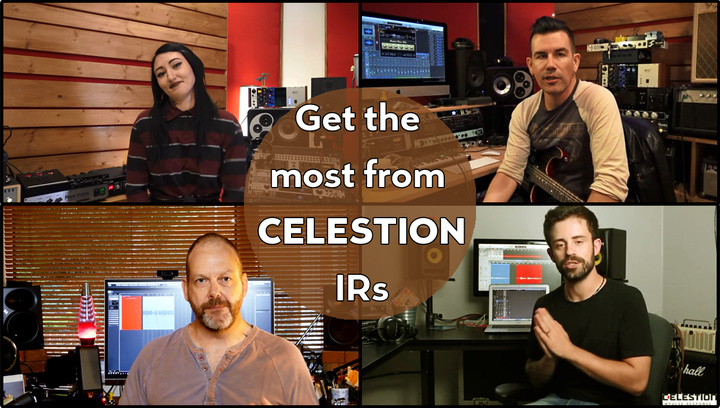 Ipswich, UK (April 29, 2020) —Celestion, the premier manufacturer of guitar and bass loudspeakers, and professional audio drivers for sound reinforcement, and creators  of digital tone, is pleased to present a carefully curated library of videos on the CelestionUK YouTube channel offering demonstrations, user tips, reviews, and expert advice, enabling players and producers alike to  gain maximum tonal benefit  from using the extensive  family of expertly recorded Celestion Impulse Responses. Celestion's acclaimed collection of guitar and bass speaker IR tones are perfectly suited to artists, musicians, engineers, players and producers who are working at home right now, and are available for audition and download at CelestionPlus.com.
Celestion IRs (impulse responses) are highly accurate digital representations of the company's legendary speakers, available for download. They allow users to closely simulate by digital means, the tone that one would get from playing a guitar (or bass) through one of Celestion's physical speakers.
To help users get the most from their IR collections, Celestion's have curated a comprehensive library of videos on their CelestionUK YouTube channel, presented by a wide variety of accomplished artists, songwriters, performers and mix engineers. These videos offer something for everyone – from players to producers, from those just beginning to use IRs, to experienced users.
Nashville-based Guitarist, Songwriter and Musical Director Chris Wrate has worked with A-list artists such as Kelsea Ballerini, Ariana Grande, David Foster, Daniel Powter, Colbie Caillat and Charice, as well as playing on TV shows like Oprah, American Idol, The Tonight Show, Jimmy Kimmel Live, The Today Show and Ellen.  See the video Chris Wrate compares the official Celestion IR with the stock IR in his Kemper profile.
Celebrated guitarist Pete Thorn is a long time Celestion IR user and has presented several comprehensive videos demonstrating the flexibility of Celestion IRs and highlighting some of their main advantages. Titles include:  An Introduction to Impulse Responses, Celestion Impulse Responses, Demo by Pete Thorn, Achieving Great Clean Tones with Speaker IRs  as well as a video comparing seven different IRs, GUITAR CAB IR SHOOTOUT! Greenbacks/4-12″ cabs.
British guitarist Robby Miller is known for performing and recording with a wide array of performers, among them: Ryan Roxie, The Scruff, Happy Mondays, We Are Scientists, D-A-D and Faster Pussycat. Miller has incorporated Celestion Impulse Responses into his guitar arsenal to achieve the tones he wants for performance, teaching and recording. Check out his Impulse Response blog and videos including: An Easy Way to Get Started with Celestion IRs and Robby Miller: Celestion Speaker IRs – Good Right Out The Box!
Brittany Bowman is a Los Angeles-based female multi-instrumentalist (drummer, guitarist, bassist) and songwriter who has been playing since she was ten years old, and has since performed on stage with bands like Green Day to working on major tours. Check out her Official Celestion G10 Creamback Impulse Responses: Review and Comparison, where she plays through the Celestion G10 Creamback impulse responses, loaded into her Line 6 HT Stomp.
Producer, mixer and audio engineer Cenzo Townshend  has worked with artists and bands including The Rolling Stones, a-ha, Kaiser Chiefs, U2, Snow Patrol, Florence + the Machine, Friendly Fires, Bloc Party, Franz Ferdinand, The Maccabees, Jamie Cullum and Thirty Seconds to Mars. See the video recorded at his Decoy Studios: Cenzo Townshend talks about Celestion Impulse Responses.
And check out up-and-coming instrumentalist Doug Weiand demonstrating just how portable and convenient Celestion IRs can be as he records a full demo track on the show floor at the recent Winter NAMM 2020 convention: Celestion IR Live Demo: Recorded Live on the Show Floor at NAMM 2020.
Visit CelestionPlus to explore the extensive family of genuine Celestion acclaimed guitar speaker Impulse Responses such as the:   A-Type,  Blackstar Cabinet, Celestion Blue,  Celestion Cream, Celestion Gold, Classic Lead 80, G10 Creamback, Heritage G12H 55Hz, Heritage G12M, G12 EVH, G12K-100, G12-35XC, G12T-75,  G12-50GL Lynchback,  G12-H150 Redback, G12M Greenback, G12M-65 Creamback, G12M-75 Creamback, G12H Anniversary, G12-65, Neo Creamback, V-Type,  Vintage 30  and bass impulse responses such as the BL10-100X, BN15-400X, BN10-200X, BN15-300X, PULSE10, PULSE12 and PULSE15. and many other models.
About Celestion Impulse Responses
Celestion IRs, which capture the essential behavior of the cabinet in the specific space in which it was recorded, including the frequency and phase response of single drivers as well as the interaction of multiple speakers, offer the user significant benefits. In both recording and live production, Celestion IRs enable the desired tone to be precisely and consistently reproduced regardless of the music recording or live sound environment. And IR users can escape the limitations of a single mic and cabinet setup and explore a universe of possibilities to create the perfect tone. Once you find a tone that you love, it can be precisely recreated, in the studio or on the road, time after time. And the IRs allow Celestion customers to audition specific models before purchasing one or more physical speakers.
Celestion IR digital downloads are available in uncompressed, industry standard .WAV format at 44.1 kHz, 48 kHz, 88.2 kHz and 96 kHz sample rates at 24 bit depth, in lengths of 200 and 500 milliseconds Once the files are downloaded and unzipped, users simply load the IRs into a convolution plug-in in their DAW or into other processing hardware. These formats will work in all known hardware capable of loading IRs, and for the most popular hardware Celestion have already grouped together the correct formats. Guitar processor manufacturers supported include Atomic Amps, Fractal Audio Systems, Kemper, Line 6, Logidy, Positive Grid, Two Notes, Headrush and Yamaha. The Celestion IR files may be downloaded in the sample rate and length appropriate for the hardware being used or as a complete package of all rates and lengths. Certain third party hardware requires the files to be converted into a proprietary format before use.
Celestion Plus.
About Celestion and Celestion Guitar Speakers
An important element to essential British guitar tone since the birth of Rock & Roll, Celestion Guitar Speakers are famous for their lively and vocal midrange character with plenty of sparkle and chime. With worldwide headquarters in Ipswich, England, Celestion design, develop and manufacture premium guitar and bass loudspeakers, and high-quality professional audio drivers for sound reinforcement. These world-renowned speakers are used onstage and in clubs, theatres and other venues the world over. Contact Celestion at: info@celestion.com and visit us on Facebook at www.facebook.com/celestion.
www.celestion.com