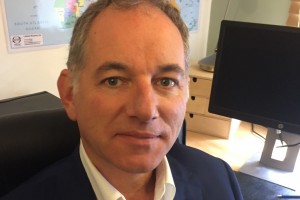 Ipswich, UK (October 27, 2016) — Celestion, the premier manufacturer of professional audio drivers for sound reinforcement applications and guitar and bass loudspeakers, announces the appointment of Neil McDougall as Distribution Sales Manager for the UK, Europe, Africa, Middle East, India and Asia Pacific Regions. Based in the Celestion headquarters in Ipswich, McDougall will develop and build relationships and business with distributors in these regions, helping to ensure the best offerings from Celestion in each region.
Neil McDougall brings a rich and varied career in various aspects of the music, MI and pro audio industries to Celestion; having worked both as a professional musician and as the owner of a music retail company. He also has vast experience working for manufacturers, holding a variety of sales positions as well as roles handling international distribution. McDougall's previous experience includes sales for Yamaha in the UK, sales and business development for Roland UK, sales and marketing at AVSL, and international sales for InMusic.
"Celestion is a highly respected brand with a rich heritage, and I have always admired their reputation for having a very professional work ethic and friendly atmosphere as a company. As I believe strongly in this approach to business, I'm delighted to join them," says McDougall. "In my first few days, I enjoyed the experience of building a speaker at the Ipswich factory, where many key Celestion products are hand-built. I will surely be recommending a factory visit to my distributors."
"I look forward to working with all of our Celestion distribution partners, many of whom I already know," adds McDougall.
Neil McDougall can be reached at: neil.mcdougall@celestion.com.
About Celestion
With worldwide headquarters in Ipswich, England, Celestion design, develop and manufacture professional audio drivers for sound reinforcement applications and premium guitar and bass loudspeakers. These world-renowned speakers are used onstage and in clubs, theatres and other venues the world over. Contact Celestion at: info@celestion.com and visit us on Facebook at www.facebook.com/celestion.