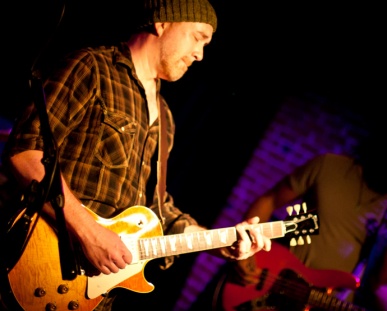 In 2004 Brian released the underground hit album "Real Life". Geminia, an instrumental track from this appears in a coveted position within the hottest video game of 2006 Guitar Hero II.
Right on the heels of Guitar Hero, Brian released his sophomore record "Suicide King". With musical support from his longtime friends/bandmates, this was the next giant leap for an artist that had firmly come into his own. A third record, "One True Thing" was released to much acclaim in 2010.
In addition to pursuits in a solo vein, Brian has recorded guitars and mixed for some of music's top artists including Tim McGraw, Multi-platinum Latin Group RBD (Rebels), Virgin recording artist – Betzi, Walt Disney Pictures, Warner Bros pictures… In fact Brian's guitar work is featured on the 2006 number one single and record in the Latin American market Save Meâ from RBD's (Rebels) debut.
Brian is also a sought-after recording engineer, having mixed and mastered some of the aforementioned artists while working on feature film as an ADR recordist and mixer. Brian's film and video game credits include … Pixar's Finding Nemo and The Incredibles, Peter Jackson's King Kong, Hayao Miyazaki's Howl's Moving Castle and Proco Roso.