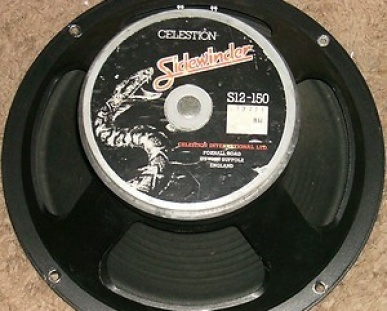 "Until now, guitarists have had a choice. Either Celestion's classic G Series with their rich, gutsy rock 'n roll performance, or American made units with edgewound voice coils and a cleaner, country feel to their sound.
Now there is no choice: the new S12-150 does it all! From the open bluesy riffs of country music to the deep dark snarl of Heavy Metal…."
The copywriting is questionable, but the purpose of the Sidewinder was unmistakable.  The message was clear, finally a Celestion guitar speaker that was able to produce "American tone".
The Sidewinder came in three different variants. The S12-150PE was purely a guitar speaker (denoted by PE = Paper Edge), offering 150-watt power handling.
S12-150CE and S15-250CE were for more general musical instrument purposes, largely for for use with bass guitar and keyboards (denoted by CE=Cloth Edge), offering 150-watt (12″ model) and 250-watt (15″ model) respectively.
Full details available in the attached datasheet!