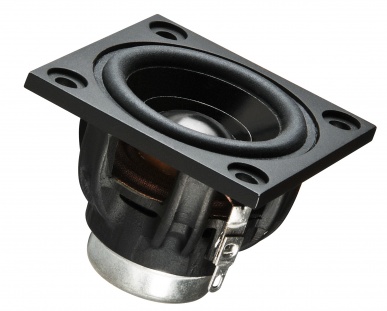 Celestion's AN Series of Compact Array Drivers comprises three high-performance, small-format professional audio drive units. They are capable of a full-range frequency response, while being incredibly compact and lightweight.
Optimized using Finite Element Analysis (FEA), the drivers give a wider dispersion characteristic than conventional loudspeakers of this size. Their space-efficient square chassis profile allows them to be positioned more closely to each other for improved coupling, where used as an array.
The AN Series affords systems designers the ability to build into their space-efficient products some of the principal advantages offered by line array designs. This includes a more even distribution of the acoustic signal and the ability to project sound over greater distances.
Features
Compact and lightweight, full-range neodymium loudspeakers

Advanced Finite Element Analysis techniques used for acoustic, mechanical and electromagnetic modelling

Ideal for applications such as portable line arrays where actively controlled wavefront (beam steering) is used

Delivers wider dispersion to higher frequencies than many equivalent compact, full-range drivers on the market

Chassis purpose designed for maximum free air movement, with square mounting frame to facilitate close coupling of multiple units

Stiff and light aluminium cone remains rigid to higher frequencies, delivering a smoother response in the critical listening band

Half roll elastomer surround provides damping for unwanted resonances and sustained centring control at extremes of excursion

Weather resistant for outdoor applications
Click here for more information on the 3.5″ AN3510, the 2.75″ AN2775 and the 2″ AN2075.