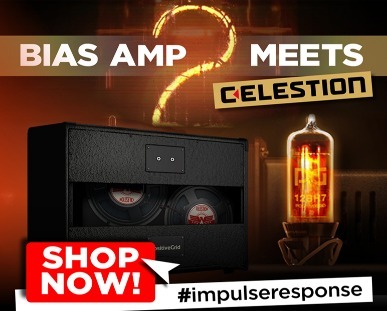 To accompany the recent release of Positive Grid's latest product – BIAS AMP 2 – Celestion have supplied a range of our authentic speaker impulse responses. Included in the Elite version of BIAS AMP 2 are IRs for 5 of our classic guitar speakers: G12M Greenback, Vintage 30, Celestion Blue, G12-65 and the G12H Anniversary.
Additional Celestion IRs can be downloaded from the CelestionPlus site can be loaded into BIAS AMP individually. Or buy the Modern Pack (G12M-65 Creamback, G12H-75 Creamback, Neo Creamback, G12H-150 Redback and the A-Type) from Positive Grid. The result is powerful guitar amp simulator which gives guitarists end-to-end control over their tone, with a wide range of tube amps, pre-amps, transformers, filters, speakers, microphones and more.
Not only does BIAS AMP 2 give you authentic analogue-sounding tone, it's also one of the most intuitive user interfaces we've seen on this type of software. And it all runs as a standalone app on a PC or Mac, which makes the whole thing extremely accessible to the average guitar player.
Read more at our blog: Celestion IRs Team Up with Positive Grid – For the Ultimate Tone Design.
Buy BIAS AMP 2 software.
Visit 
the Positive Grid website.